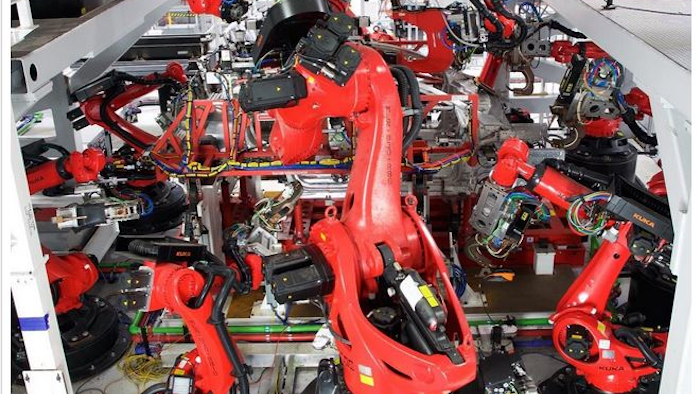 CEO Elon Musk showed off the Tesla production line in an Instagram post on Aug. 30, using the opportunity to show both the impressive collection of machinery and to drive home his well-known points about the dangers of artificial intelligence. Despite employing 542 of the steely-eyed proto-Terminators on the production line, Musk posted an open-ended dig at our future mechanical overlords. "And people wonder why I'm worried about the robocalypse …"
Specifically, this is the Tesla Production Line 2 at the factory in Fremont, Calif., which will build both the Model S and the upcoming $132k Model X SUV. Both cars share basically the same chassis, so it just makes sense for them to be produced on the same line. It is also said to be a test bed for the production of the mass market Model 3: the company expects to roll out 500,000 cars per year by 2020.
Up to 15 robots work at the same time at the Fremont factory's central assembly point, Musk said.
Meanwhile, the Gigafactory in Nevada, expected to be operational in 2016 or 2017, will produce the lithium-ion batteries needed to keep those cars going.
Even while moving forward with high-tech production, Musk is wary about what self-aware machines might mean for human life.  
Hope we're not just the biological boot loader for digital superintelligence. Unfortunately, that is increasingly probable

— Elon Musk (@elonmusk) August 3, 2014
In 2014 he addressed the AeroAstro Centennial Symposium, where he said that AI could cause the extinction of the human race and that it is "potentially more dangerous than nukes."
The particular robots in Musk's Instagram picture appear to have been manufactured by the Japanese company Kuka. In late 2014 the Fremont factory was overhauled and more robots added, some of themnamed after X-Men characters.
The first deliveries of the Model X are expected to begin this month.