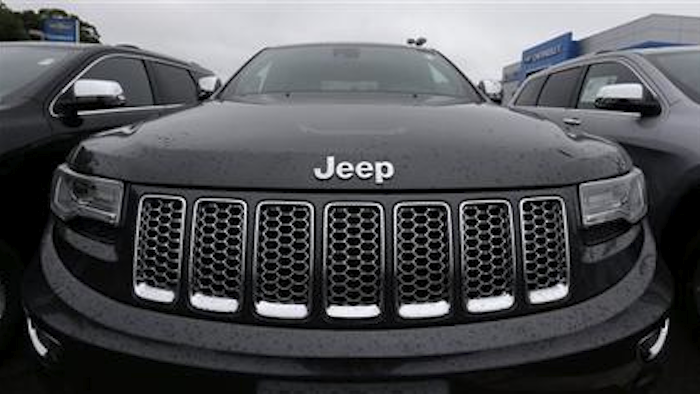 Fiat Chrysler assembly plant managers told workers Tuesday that Jeep Wrangler production will stay in the city where the vehicle's roots date to World War II, but they also delivered a surprising announcement that the Jeep Cherokee line would be sent out of state, union leaders said.
It's not clear how the moves might affect job numbers at the plant, which employs about 6,000.
But managers told workers that employment levels would not be affected, although they didn't provide details on how that would happen, said Bruce Baumhower, president of United Auto Workers Local 12.
Over half of the plant's employees work on the Cherokee.
Auto workers and city leaders have been on edge for nearly a year since Fiat revealed it was considering moving the Wrangler assembly line because of the cost of reconfiguring its current plant so that the vehicle could be constructed with an aluminum body to meet new government gas-mileage standards.
Moving the Cherokee was never mentioned until Tuesday and caught everyone off guard, Baumhower said.
Automotive News first reported the decision. Fiat Chrysler CEO Sergio Marchionne told the publication that the company had found a solution to expand Wrangler production. He told Automotive News that the only way to keep the Wrangler in Toledo would be to move it into the space now occupied by the Cherokee. He did not say where the Cherokee could be headed.
Fiat wouldn't elaborate on his comments.
Baumhower and Ken Lortz, regional director of the UAW for Ohio, both said they are not convinced the Cherokee would be moved, saying that the plan outlined by Marchionne could be a trial balloon.
Fiat Chrysler, GM and Ford are in the middle of contract talks with the UAW. The union's contracts with the automakers expire Sept. 14.
Marchionne previously said he hoped to decide by the end of the summer on where the Wrangler would land.
Toledo and officials from the state of Ohio have put together incentives packages for Fiat Chrysler executives as part of their effort to hold onto the Wrangler.
Jeep's origins in Toledo go back to 1941, when Willys-Overland Motors began mass production of the vehicle for the military. As the war neared its end, the company began making the Jeep CJ for the public.