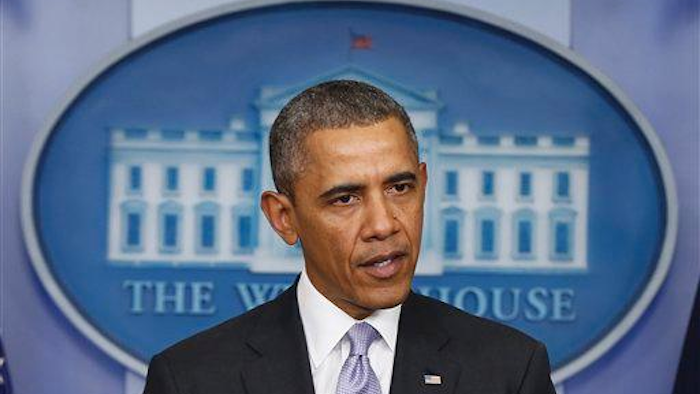 SACRAMENTO, Calif. (AP) — The federal health care overhaul is providing coverage for millions of Americans, but it has only chipped away at one of its core goals: to sharply reduce the number of people without insurance.
President Barack Obama announced last week that 8 million people have signed up for coverage through new insurance exchanges, but many barriers remain.
Questions of affordability, eligibility, immigrant access and the response from employers and state legislatures — obstacles that existed before the Affordable Care Act took effect — mean considerable work remains to make a larger dent in the uninsured population.
Some remain ineligible for Medicaid or government subsidies that lower monthly premiums because their incomes are too high. Others are eligible for the subsidies but say they can't afford their share of plans sold through government exchanges. Millions of immigrants living in the country illegally are without care, prohibited from gaining coverage under the federal law.
Some employers, meanwhile, have reduced staff hours to avoid a provision of the law that requires health coverage for employees who work 30 hours a week.
"I'm a nurse, but my employer doesn't offer health insurance," said Gwen Eliezer, 32, who lives an hour north of Ashville in rural northwestern North Carolina.
During open enrollment, Eliezer's 6-year-old son was able to qualify for Medicaid, but she continues to go without coverage.
Eliezer works an average of 29 hours a week and isn't considered a full-time employee. She said she can't afford the $200 monthly premium and $6,500 deductible in the plan she found on the federal health insurance exchange — even with a premium subsidy. Instead, she pays cash to see her doctor for gastrointestinal pain but can't afford to get the problem diagnosed.
"If I went through an emergency room, I can claim acute pain," she said. "But then I'd end up with a lot of debt to a hospital."
Before the launch of the Affordable Care Act, about 48 million people, or 15 percent of the population, went without health insurance, according to the U.S. Census Bureau. The number of people recently enrolled includes those who switched from previous insurance coverage, and it's not yet clear how many previously uninsured people have received coverage.
A Gallup-Healthways Well-Being Index released this month said the share of adults without insurance shrank from 17.1 percent at the end of last year to 15.6 percent for the first three months of 2014. The decline would translate to about 3.5 million people gaining coverage, according to the study.
Health advocates across the nation are keenly aware that their work isn't finished. California "has made huge progress with the new benefits of the Affordable Care Act," said executive director of Health Access California Anthony Wright. "But there's more to do."
The evolution of the health care law has led to a coverage gap for 4.8 million low-income, childless adults, according to a December survey by Kaiser Family Foundation.
The federal government has offered to pay states nearly all of the costs for expanding Medicaid for those who make up to 138 percent of the federal poverty level, or about $16,000 for an individual, to account for this gap. But since the U.S. Supreme Court ruled that expansion was voluntary, 24 states have opted against it.
High premiums, co-pays and deductibles also remain big hurdles.
Hair salon owner Lola Smith of Palo Alto, Pa., about 100 miles northwest of Philadelphia, said she would have purchased health insurance on the government exchange if it had been more affordable.
Instead, she bought a cut-rate plan for $148 a month that helps pay for hospitalizations and doctor visits. But Smith, who becomes eligible for Medicare when she turns 65 next year, was told her plan doesn't qualify as health insurance under the Affordable Care Act.
"It doesn't cover very much. It's just basic, and they told me I would probably have to pay the fine," she said.
Immigrants also face challenges. The Migration Policy Institute estimated that more than 7.5 million people in the uncovered group are immigrants who are in the country illegally and ineligible for coverage under the federal overhaul. For them, emergency rooms and safety net clinics remain among the few options for coverage.
California had the nation's highest population of uninsured residents with 5.4 million people who lacked care before the federal overhaul took effect.
Following the recent open enrollment, that number of will drop as low as 3.7 million, according to the University of California at Berkeley's Center for Labor Research and Education. Of those, almost a million are living in the state without legal permission.
"When I see there are American citizens who don't have access to health care because they can't pay for it, I figure that I'll have even less of a chance to have access to health services," said Jose Diaz, a 67-year-old day laborer in Pomona, Calif., who came to the U.S. illegally from Mexico City nearly a decade ago. "It's very sad."
___
Associated Press writers Marc Levy in Harrisburg, Pa., and Ramit Plushnick-Masti in Houston contributed to this report.