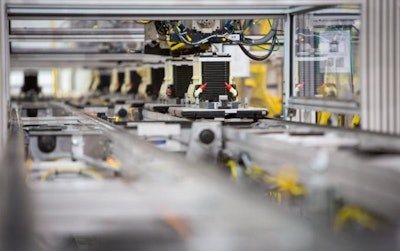 September U.S. manufacturing technology orders totaled $647.63 million according to AMT – The Association For Manufacturing Technology. This total, as reported by companies participating in the USMTO program, was up 77.3% from August and up 61.4% when compared with the total of $401.18 million reported for September 2013. With a year-to-date total of $3,738.72 million, 2014 is up 5.2% compared with 2013.
These numbers and all data in this report are based on the totals of actual data reported by companies participating in the USMTO program.
"We now have data to back up the anecdotal reports that IMTS was an exceptionally strong show. This is a great sign that manufacturers are eager to invest in equipment that will boost their productivity," said Douglas K. Woods, AMT President. "But, Washington's cooperation will be essential to continuing our momentum going forward. With the midterm elections just passed, Congress now must focus on passing tax extender legislation during the lame-duck session, and then taking on comprehensive tax reform once the new Congress convenes in 2015."
The United States Manufacturing Technology Orders (USMTO) report, compiled by the trade association representing the production and distribution of manufacturing technology, provides regional and national U.S. orders data of domestic and imported machine tools and related equipment.
Analysis of manufacturing technology orders provides a reliable leading economic indicator as manufacturing industries invest in capital metalworking equipment to increase capacity and improve productivity.
For more information about the Association for Manufacturing Technology, visit www.amtonline.org.