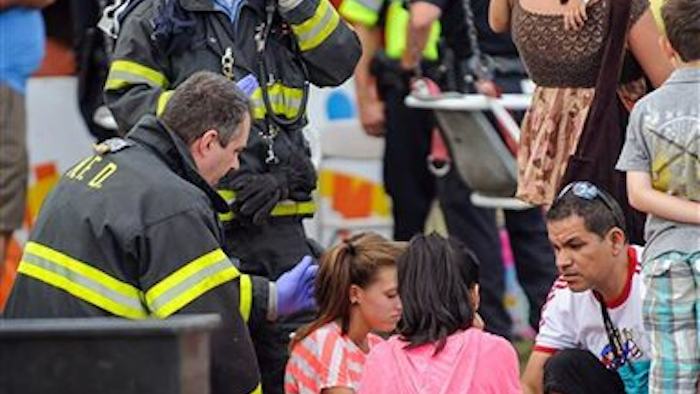 HARTFORD, Conn. (AP) -- Bulletins are going out this week to owners of the other dozen or so swing rides of the type that broke last month at a Connecticut fair, advising them to check the gears and shafts in the motors for any problems using ultrasonic testing equipment, according to an official of the successor company of the ride's manufacturer.
There are about a dozen Zumur rides remaining in the U.S. and three in other countries, Jeff Roth, vice president of administration for Wichita, Kan.-based Chance Rides, told The Associated Press on Thursday.
The accident Sept. 8 at the annual Oyster Festival in Norwalk came after a drive system that spins the ride's hanging swings suddenly froze, sending passengers hurtling into each other and the ride itself. Thirteen people were taken to hospitals with minor injuries, and five others declined treatment at the scene.
Crews later took apart the hydraulic motor and discovered that a metal shaft that helps spin the ride had broken. The shaft, about 16 inches long and 2½ inches across, was attached to a gear that was hooked into another gear that helped propel the swings.
The ride is owned by Stewart Amusement Co. of Monroe, Conn. The company's owner, Richard Stewart, said Thursday that his crews followed manufacturer specifications on maintenance and that readjusting the gears wasn't part of those specifications, to their knowledge.
"Once those things are set in place, they shouldn't have to be adjusted," Stewart said. He said he planned to call Chance Rides to discuss the problem.
Routine maintenance could have prevented the accident, Roth said. His company determined the shaft broke because the teeth on the gears had worn over the years and the gears hadn't been readjusted as they should have under manufacturer specifications. Chance's predecessor, Chance Manufacturing Co., made the ride in 1983.
"It wore out over 30 years," Roth said. "Had it been kept properly adjusted, the accident wouldn't have happened."
State police are compiling their own report on what went wrong. Police officials inspected all the Stewart Amusement rides at the festival before it opened and found a few minor problems, but none with the Zumur, according to a state police report on the inspections. The minor problems included a need for more fencing around one ride and loose blocking in another.
Stewart has no history of any safety violations, state officials said. And there were no similar problems with any Zumur ride in the past, Roth said.
After the festival accident, the ride was taken back to Stewart Amusement's headquarters to be disassembled in an attempt to find out what happened. When crews took it apart several weeks ago, there were state police inspectors, consumer affairs officials, an insurance company investigator and a representative from Chance Rides on hand, Stewart said.
Chance sent the broken parts to a metallurgy laboratory for testing, Roth said.
"I think Dick Stewart is a very reputable operator, and it's very unfortunate that this happened," Roth said.