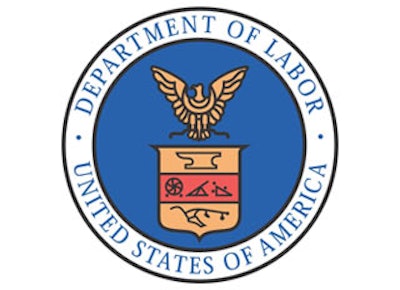 CENTRAL FALLS, R.I. (AP) — The Obama administration's top labor official said Wednesday she hopes to expand nationally a work sharing program long used in Rhode Island that is designed to prevent layoffs during tough economic times.
During a visit to a manufacturer in Central Falls, U.S. Labor Secretary Hilda Solis highlighted the success of the WorkShare program, calling it a "win-win" for both companies and employees.
The program, which has been used in Rhode Island for 20 years, allows companies to reduce the hours of employees, rather than lay them off. The workers then collect partial unemployment to make up for lost wages.
Solis said that allows firms to retain their skilled workers, preventing them from spending time and resources retraining once the economy is strong enough to allow rehiring.
"In tough economic times, it makes a lot of sense to us," Solis said during a tour of the Safety Flag Co. of America, which manufactures reflective apparel, flags, signs and other items. "We're trying to use this as a model to go out to other states."
Democratic U.S. Sen. Jack Reed, who authored legislation that provides federal support to existing work sharing programs and helps more states develop them, announced Wednesday that Rhode Island is getting $330,000 for the effort. The state will get millions more in federal reimbursements for unemployment insurance costs already paid out by the state, according to Reed's office.
State officials say WorkShare has helped prevent more than 15,000 layoffs since 2007. Rhode Island has the country's second-highest unemployment rate, 10.8 percent.
Safety Flag owner Norman Bernson said Wednesday he would have had to let go about six workers but, instead, under the WorkShare program, he cut the hours of all 26 of his employees — in some cases up to 10 or 15 hours a week.
"It's a lot better than laying people off," he said.
Twenty-one states and the District of Columbia have similar programs.
During a separate visit to the Blackstone Valley Community Action Program in Pawtucket on Wednesday, Solis also announced a $1.1 million grant for a workforce development program for young workers, YouthBuild. The grant is among $75 million in national YouthBuild awards announced by Solis.
Appearing with the secretary in Central Falls, state Department of Labor and Training Director Charles Fogarty also said he is "hopeful" his department will be able to rehire, with the help of federal Labor Department funds, eight of the 67 workers laid off at his agency last month.
The state already rehired seven. The federal government allowed Rhode Island to redirect about $500,000 in existing federal funds to pay the workers.