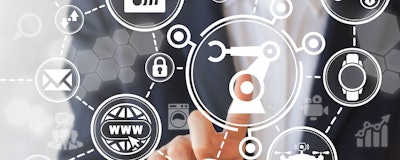 "Across America, manufacturers' optimism is soaring, in no small part because of President Trump's laser-like focus on pursuing bold action, particularly on rethinking red tape to address regulatory reform, to accelerate a jobs surge in America," said the National Association of Manufacturers' President and CEO Jay Timmons in a recent interview.
According to the NAM Q1 Outlook Survey, 93.3 percent of manufacturers have a "positive outlook" on their company going into 2017, compared to 77.8 percent back in December of 2016. While this optimism is positive on the surface, this macro-view hides the 10 real threats to the long-term growth and sustainment of mid-market manufacturers:
1) The Fulfillment Threat - The impact of online fulfillment channels like Amazon.com, to traditional distribution, dealer and eCommerce channels.
2) The UX Threat - The lack of optimization/responsiveness of customer communication processes and information transparency using digital platforms.
3) The Culture Threat - The impact of internal cultures that resist change and focus on maintaining the status quo.
4) The Data Insight Threat - The impact of information and communication automation systems to predict customer behavior and market demands.
5) The Purchasing Threat - The automation of computer-to-computer purchasing processes, specifically with OEMs.
6) The Marketing Threat - The lack of strategically leveraging marketing investments for differentiation and customer retention.
7) The Diversification Threat - The lack of expansion of product offerings into new applications, markets and regions.
8) The Talent Threat - The lack of employee engagement, recruitment and growth strategies.
9) The Advanced Technology Threat - The advancement of 3D printing, robotics and additive manufacturing, both from a competitive and a disruptive perspective.
10) The Differentiation Threat - The lack of product, company, service and/or customer experience differentiation, especially in commoditized markets.
These threats are opportunities for those who are proactive disruptors, and risks for those who find themselves being disrupted.
What manufacturers are realizing is that data will be the new raw material. The company that can best harness the power of data and monetize it through innovative solutions and new business models will capture the greatest share of market.
As industries transform, the next generation of talent and customer expects their industry or company to evolve from being a producer of a product, to a provider of solutions.
Those that are digitally enabled, leveraging technology, data and analytics and embrace these threats as opportunities will emerge the winners.
Andrea Olson is founder of marketing and communications strategic consulting firm Prag'madik.