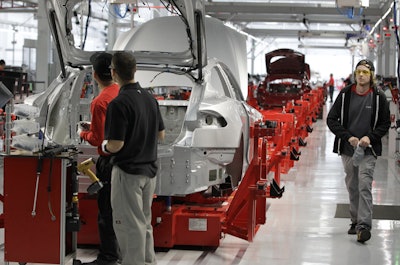 On Thursday, Tesla confirmed that it was considering opening an electric vehicle manufacturing facility in the Shanghai region of China.
News of talks between the electric automaker and the Chinese government was first reported by Reuters, but speculation about Tesla's interest in opening a factory in the world's largest automotive market has been circling for months.
A move to China would not only help Tesla CEO Elon Musk meet the company's lofty production goals and high demand, but it would also give a more competitive edge in the local market because the 25 percent import tariff that makes vehicles even pricier would be removed.
Currently, Tesla manufactures all of its cars in the U.S., and the company hopes to increase production to 500,000 cars a year — a goal equivalent to a six-fold increase over its 2016 output.
"Tesla is deeply committed to the Chinese market, and we continue to evaluate potential manufacturing sites around the globe to serve the local markets," Tesla said in a statement to the Wall Street Journal. "While we expect most of our production to remain in the U.S., we do need to establish local factories to ensure affordability for the markets they serve."
According to Bloomberg, nearly 15 percent of Tesla's $7 billion revenue in 2016 was generated in China.
Tesla expects to "more clearly define its plans for producting electric vehicles in China by the end of the year."