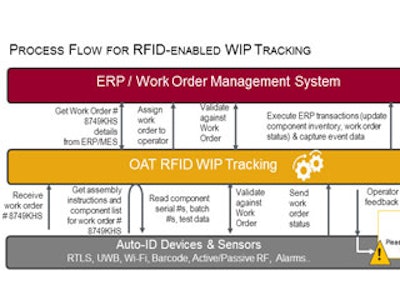 The use of RFID is becoming more and more prevalent in manufacturing industries.  But the rationale behind RFID process automation has evolved over the years, from supplier mandates, to cost reductions, to performance improvement.  Over the past year, we've observed manufacturers using new metrics to define RFID deployments -- five major trends that are driving the adoption of RFID and RTLS in Manufacturing:
Multi-facility Assembly  
Design-to-Delivery
Product Innovation
Customer-Facing Operations
Enterprise Asset Management
Trend 1: Multi-facility Assembly
Capital goods are often manufactured across multiple facilities with different capabilities. One factory may specialize in metal fabrication while another specializes in advanced composites. Final assembly often takes place at a larger facility suitable for warehousing subassemblies and whole goods.  RFID-enabled work order tracking helps manage the complexity of distributed assembly processes by automating line-side replenishment, providing real-time process alerts and automatically documenting the bill of materials (and customs documentation for manufacturers whose processes cross international boundaries), as a work order moves from one process to the next.   
One North American specialized aircraft manufacturer recently RFID-enabled its work-in-process tracking.  Since its assembly process spans eight facilities, work-in-process tracking isn't just recording when a work order moves from work station to work station; it's tracking subassemblies as they move from facility to facility.  With RFID-enabled shipping, receiving and indirect material tracking, the company has real-time status of customer work orders, and has significantly improved its on-time delivery metrics as a result.  
Trend 2: Design-to-Delivery
As manufacturers increase the rate of new product introductions, they're also accelerating the design-to-delivery cycle – the time from product concept to customer availability.   In apparel manufacturing, some vertically integrated brands are automating their design-to-delivery work processes with RFID.  The fact that RFID can be implemented as a "hands-free" inventory management system significantly reduces the time and labor required to introduce new merchandise into the supply chain and keep store-specific assortments stocked on shelves.  One international apparel firm has RFID –enabled logistics to accelerate its product launch cycle to 20-25 collections per year (a typical apparel firm may have six to eight seasonal collections each year The apparel firm already had automated machinery in place, but RFID enabled it to automate the inventory and distribution of hundreds of thousands of garments each week.). As a result, it can now more easily bring fresh new designs into its stores and keep customers coming back.
In aerospace manufacturing, OEMs and suppliers are tracking aircraft components at the point of manufacture.  A tier 1 supplier is tracking manufacturing data for avionics modules that are installed in commercial and defense aircraft, while they are still at the component level.  Starting WIP tracking at the supplier saves processing time, handling time and gives everyone more visibility to streamline manufacturing, and makes maintenance and reverse logistics more efficient once the aircraft is in service. 
Trend 3: Product Innovation
Manufacturers in automotive, aerospace and energy industries are increasingly using advanced composite materials for their light weight and fuel efficiency.  These new materials create a mini process manufacturing environment within a discrete manufacturing operation, since they require completely different assembly processes, materials management and tooling.   Recently, an aero structures manufacturer began tracking perishable composite material with RFID.  The manufacturer uses composite prepreg (pre-impregnated composite fibers), a perishable material that must be transported, stored and monitored at sub-zero temperatures, for fabricating curved structural components.  Prepreg must be discarded once it has been out of the freezer beyond a rated time (usually 350-400 hours), and tracking out time is time-consuming and error-prone, often leading to any questionable material being discarded as scrap.  By automating material tracking with RFID, the manufacturer has been able to reduce material costs and quality risk.
As manufacturers innovate with new product introductions, tooling and indirect materials (like conveyances, containers and jigs) can quickly proliferate.  Many deployments in the past year have been automating the management of these indirect materials with RFID.  One company that produces capital goods is using RFID to track specialized metal bonding tools through a curing process.
Trend 4: Customer-Facing Operations
Industrial goods manufacturers generally build to order vs. building to stock. With a customer facing process, there's nothing to hide – for an aircraft manufacturer that provides custom variations like protective options for law enforcement, or specialized avionics, there's no component substitution. End customers are increasingly requesting visibility into work-in-process, well before a product is scheduled for final assembly and delivery.  Precise work order tracking with RFID helps keep work orders on schedule, locating and pre-staging raw materials, components, tooling and conveyances prior to each process step, and providing WIP visibility to the end-customer.   This also provides cost savings for the manufacturer, since on-time delivery helps prevent rework, discounting and contract issues.
Trend 5: Enterprise Asset Management
Manufacturers have large assembly plants, with assets in every corner of the facility – but not everything classified as WIP is a revenue-producing asset.  CFOs and asset managers are looking more closely at working capital – which directly affects the balance sheet.  Maintenance and MRO operations need to manage high-value capital equipment and in many ways, overhaul operations are like any manufacturing operation – building an aircraft engine and overhauling an aircraft engine have similar processes.  RFID can help manage inventory and maintenance of these capital assets.
Several industrial equipment manufacturers are tracking whole goods and final-stage work in process with RFID across large manufacturing facilities.  In aftermarket operations, maintenance, repair and overhaul (MRO) firms track engine components and tools through the engine overhaul process with RFID.  Cost savings are easy to calculate in an environment where components can cost hundreds of thousands of dollars and customers lose money for every day the schedule slips and a plane is grounded.
Working capital is a compelling use case because the C-suite cares about it.  And RFID can have an impact on every aspect of working capital performance, from optimizing inventory of raw materials and finished goods to informing performance metrics. A recent Accenture study found that although most working capital reduction programs were focused on the financial side (extending payables, getting aggressive on receivables), the lasting improvements came from operations transformation and process improvement, which can all be automated with RFID.
Summary
No longer are manufacturers implementing RFID solely because of supplier mandates, expected cost reductions or performance improvements. Today's RFID surge in manufacturing is being driven largely by five enterprise trends, including multi-facility assembly, design-to-delivery, product Innovation, customer-facing operations or enterprise asset management.
---
Chris Forgione is senior director of RFID Asset Tracking, OATSystems, a division of Checkpoint Systems. He has directed dozens of enterprise RFID manufacturing deployments across multiple industries, including Aerospace & Defense, Industrial and Farm Equipment, Chemicals and Consumer Goods.