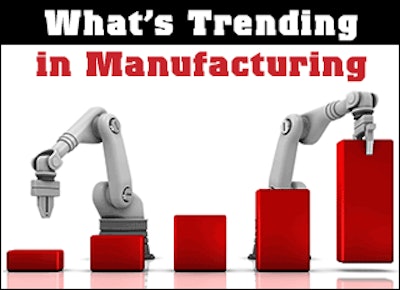 Here's a deeper look into the top trending stories in manufacturing today based on reader feedback: Google and IBM unload some devisions; the skills gap in the U.S.; and Apple's disappointing numbers. Below these stories, check out links to other related news and features at Manufacturing Business Technology.
---
In Case You Missed It: Google's Motorola Misstep Could Be Lenovo's Boon
Last week it was announced that Google would be selling its Motorola division to the Chinese computer maker Lenovo Group. Most investors viewed Motorola as an unnecessary drain on Google's profit, a perspective that was reflected by Wall Street's reaction to the sale. Google's stock gained $28.08, or 2.5 percent, to $1,135 in extended trading. This is the second announcement by Lenovo as just the week before it indicated that it is buying IBM's x86 server business for $2.3 billion, expanding its product line-up dominated by PCs, tablets and smartphones.
While these deals should get a green light from U.S. regulators, Lenovo may have to agree to some concessions in the name of U.S. national security. The deal will face review by the Committee on Foreign Investment in the U.S. (CFIUS), a federal agency that investigates potential national security issues. Because of the nature of Lenovo's business, they may be asked to set up certain measures to insure that the company can't be influenced by the Chinese government in ways that would harm U.S. security. The CFIUS may also require that certain products are only handled by U.S. citizens or by located only in the U.S.
But, despite these concessions, this isn't the first time Lenovo has faced this process and scrutiny. Lenovo has a history of buying American businesses and products, like its 2005 acquisition of IBM's PC business, and again in 2012 when it purchased software maker Stoneware and initiated a partnership with EMC. Having be able to make it through the CFIUS process for those three deals, it seems like that Lenovo will soon be the owner of IBM's x86 server business and Motorola, making it an even bigger player in the smartphone market.
With foreign companies moving aggressively forward with buying up companies, patents and products, it seems we are really entering that blurry line between what is an American product, and what merely seems to be an American product. In the end, that may all depend on where production for these products takes place.
---
Mike Rowe Discusses The Skills Gap
Mike Rowe appeared on HBO's "Real Time with Bill Maher" to discuss Rowe's efforts to bridge the "profound disconnect" between the 3 million good U.S. jobs that can't be filled due to lack of skilled applicants.
Commentor Justafan discussed a possible roadblock in the idea though:
"The missing part of the skills gap is that for those people that take that blue collar job — the minute there is a downturn or a slow down they are laid off or let go. It is boom or bust and it is hard to ride that roller coaster. Aslo my current employer will not let you move from blue collar to white collar with out a 4 year degree. You can't spin a rench when you are 65 trying to make it to 70 to retire."
---
Apple's 1Q Disappoints Investors, Stock Stumbles
SAN FRANCISCO (AP) -- Apple's holiday season proved to be a letdown, even though the company sold a record number of iPhones and iPads during its latest quarter.
The results released Monday further crystalized the challenges facing Apple as the world's most valuable company struggles to lift its stock back to where it stood at its peak of more than $700 in September 2012. That was before investors began to fret about fiercer competition in mobile devices and the lack of a breakthrough product since the iPad came out nearly four years ago.
Apple's management amplified those concerns with a revenue forecast for the current quarter of $43 billion, falling about $3 billion below analysts' predictions. Continue reading...
Apple CEO, Tim Cook, has indicated on more than one date that Apple has some big innovations in the pipeline slated to be announced or released in 2014. Without specifics on these products, investors are still leary of company's current state. Besides updates of its current products, rumors are leaning toward an integrated Apple television, but I guess we'll all have to wait and see what happens.
Also read: Icahn Raises Apple Stake, Now Owns $3B In Stock
Also read: Pressure Mounts For Apple To Expand Its Horizons
---
If you'd like to weigh-in about What's Trending In Manufacturing, leave a comment below or Email me at Jon.Minnick@advantagemedia.com.