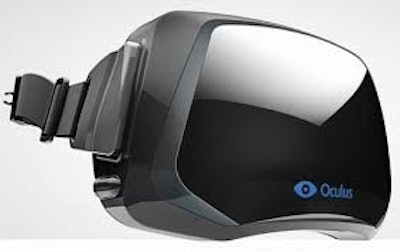 In a recent article that appeared in MBT, we introduced the Digital Innovation Wheel for Manufacturing which included a view of several emerging technologies that will impact the industry's not too distant future.
When discussing the topic of emerging tech, one immediate reaction may be to conceive that this is something for the future, not today, and that the technology is very interesting but not mature enough or scalable enough to currently deliver ROI. And it's often true — disruptive change can happen very slowly. But then, every so often, a technology advance comes along, like Apple's iPhone, that quickly changes the game for what's possible. 
Enter the emerging technology of Virtual Reality, or VR. Thanks to recent and dramatic technology advances by companies like Oculus Rift (now owned by Facebook), Sony, Samsung and Microsoft, VR has become not only a tremendously cool technology, but also one that is super accessible and scalable.
Intrigued? You need to be.  First, let's explore what the technology is and then its compelling relevance to the manufacturing landscape.
If you've visited Disney World or Universal Studios in the past several years, you are likely familiar with virtual reality technology. It is a computer-generated, artificial world that simulates physical presence in both real and imagined worlds. Inside the VR experience, users are often able to manipulate and interact with elements as they would in the real world through sight, sound, and touch. And while it has long been featured at places like theme parks and digital studios, thanks to new highly portable devices that can produce remarkably life-like, 360 degree and 3D experiences using a portable headset and cell phone or laptop, it is quickly taking hold in both consumer and business contexts.
To determine if VR is relevant for your business, start by asking yourself the following questions:
Do we have a product or service that needs to be seen or experienced in action to be fully appreciated? 
Would it be of value to immerse customers or prospects in our product when they are unable to visit our showroom, factory or field-location?
Could we benefit from bringing more emotion and wow-factor into our selling experience?
Is our brand suffering from a lack of modernization and innovation?
If your answers to any of the questions above are "yes," then VR should immediately be on your radar.
Manufacturers that explore VR will quickly find it may open new doors to not only accelerate the buyer's journey and sales cycle, but also reduce sales and marketing overhead such as travel and product sampling.
The New (Sales) Normal
Ford, Autodesk and BAE Systems are among manufacturers who have been using VR to supplement their manufacturing processes for training and prototyping. Prototyping and early product review are obvious and effective applications, and simple model viewers are some of the easiest to implement from an execution standpoint. Using VR in these capacities, then, could be a quick win if your budget is too tight for more in-depth consumer facing applications.
And what about sales and marketing? Imagine taking trade show prospects and immersing them in your factory and unique production process right on the show floor. In just three minutes, virtual reality devices can enable key targets to not just see the factory setting, but remotely "tour" the property, capturing the technology, people and processes that make the organization so dynamic. The VR experience evokes in these prospects the same feelings — both physical and emotional — that they would have if they were actually in the building.
VR is also changing the face of sales by enabling the sales force to provide customers and prospects with immersive product demonstrations while on the road. Salespeople can use VR tools to show what their product does, as well as how it is being used, in remarkably vivid and contextual ways. For instance, Volvo is using VR to give customers virtual test drives at auto shows and GE has created a VR experience to immerse prospects in the technology of their jet engines.
Additionally, executives can leverage VR to augment sales training activities. In doing so, sales representative can experience the benefits and applications of a product firsthand, enabling them to better communicate its value proposition to core audiences. Not only that, but life-like scenarios can be used to simulate reality and train prospects on proper procedures and mindset.
It all sounds good, but can you really do this? The short answer is probably. Devices only cost between $25 and $350 each and prices are falling quickly. VR content is created using a combination of software and special video/audio content, and this is a bit more laborious and expensive. Content for simple VR experiences can range from low to mid five figures while more advanced experiences can cost upwards of six figures.
To stand out in today's crowded sales and marketing world, manufacturers must look to new technologies like VR to create enticing, immersive experiences that will better engage target audiences and further the buyer's journey. Organizations that embrace next-generation VR technology in its early days will not only gain press, buzz and early learning, but stand to gain from both brand perception and increased sales. Much like how the iPhone rapidly changed the face of mobile technology, VR's future is suddenly here and now. So, what are you waiting for? 
Mike Stutman is SVP of Strategy and Manufacturing Practice Lead at Primacy. 
---
To read more manufacturing and technology news, sign up for our newsletter. You can also follow Manufacturing Business Technology on Twitter @MBTwebsite.