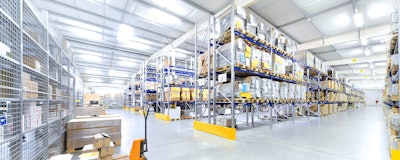 Today's distribution centers are under tremendous pressure to keep up with the speed of retail. The popularity of omnichannel shopping and heightened expectations around product availability and delivery speed have put increasing pressure on these facilities to perform and quite literally "deliver the goods" in a timely manner. To meet the demand of today's ultra-competitive, 24/7 marketplace, distribution center managers must have visibility into order fulfillment information, the ability to train workers quickly and equip them with intuitive tools, the means to track a product's progress in real-time and the right tools to address any roadblocks that arise during the fulfillment process. Doing all of these things effectively requires a flexible solution set that enables employees and managers to access pertinent, up-to-the-minute information on-the-go — when and where they need it. In other words, to achieve success in today's competitive landscape, warehouse managers must embrace mobile solutions.
Working the Warehouse Floor
The success of a warehouse hinges on the ability and productivity of its associates and the supporting equipment. In a large warehouse, workers easily field thousands of orders per day, all of which require accurate picking, packing and shipping. If these processes are executed incorrectly, the order can be delayed or inaccurate, which negatively affects the consumer experience and thus their satisfaction and loyalty to the brand. Another compounding challenge is that warehouses frequently utilize temporary workers to help meet seasonal demands. This is especially true around peak times such as the holidays, when warehouses augment their staff with seasonal employees to help fulfill dramatic order spikes. In situations like these, it's imperative that workers get up to speed very quickly, or else they can end up being more of a drain on the operation than an asset.
To ensure the success of these line workers — both temporary and full time — warehouse managers must equip them with intuitive tools that allow easy access of pertinent information from the palms of their hands. These tools should mirror the look and feel of the consumer applications that so many of us — especially millennials — access daily from our smart phones, making them easy to understand and utilize with a zero-training expectation. By putting all warehouse processes — including the intake of inventory, inspection of product, packing and verification activities, consolidation of products and more — into an easy to use, end-to-end mobile format, managers can set their workers and their warehouses up for success.
Worker motivation and engagement can also be drastically improved with today's mobile warehouse applications. These tools give employees greater insight into their individual performance, how it compares to that of the greater team and how it contributes to the success of the warehouse as a whole. They also introduce a gamification aspect to workforce performance management, using the design and interaction techniques of video games to help foster friendly competition among staff and enable greater training and coaching for employees as needed. An engaged workforce is a more productive workforce, and today's advanced mobile warehouse applications are key in fostering that engagement.
Overseeing Warehouse Operations
Line workers aren't the only employees who benefit from mobile solutions in the warehouse — supervisors also have much to gain from embracing this technology. In the past, supervisors were often confined to their offices and desks, separated from their staff, their inventory and all of the fulfillment processes that take place on the warehouse floor. This caused a general lack of visibility into warehouse operations.
In a mobile-oriented warehouse, supervisors have access to all critical applications via a tablet or other hand-held device, which enables them to easily move throughout the warehouse, engage with employees and oversee labor, work and inventory in real-time. These actionable insights mean supervisors can easily adjust fulfillment priorities or move personnel to adapt to any changes in order requirements, inventory, labor or equipment resources, thus reducing any lag or downtime that could negatively affect the key facility metrics.
The ability to walk the floor also helps supervisors foster stronger relationships and better motivate their employees. Mobile applications provide supervisors with the performance management information needed for real-time interaction with employees and the ability to reward high-performing workers, which can boost motivation, improve employee engagement and enhance warehouse throughput.
Delivering the Goods
Mobile technologies have revolutionized warehouse processes, but their impact on the supply chain doesn't stop there. Mobile also has tremendous implications in the transportation management space. Product delivery is obviously a crucial part of order fulfillment, but it is far from a simple process. Delivery networks can be extensive and complex, often relying on third party vendors and subject to external forces that could easily throw a wrench in delivery timelines. To stay on top of product location and ensure on-time deliveries, managers need real-time shipment tracking, freight management, shipping status updates and network operations monitoring. Mobile transportation management technologies make these insights possible, all from a hand-held, in-cab device.
Historically, managers were unable to effectively monitor truckers throughout their drives — they relied instead on periodic check-ins to update their delivery status information. This results in a significant lag in identifying and addressing transportation issues, which impacts delivery deadlines. With mobile transportation applications available at a driver's fingertips, managers are able to more accurately monitor progress in real-time and quickly adapt to delay-causing issues. Today's mobile transportation applications also feature delivery confirmation and signature capture, which helps demystify the final leg of the supply chain journey and ensure transparency and accountability for product delivery.
With the exponential growth of e-commerce, today's distribution centers and supply chains are faced with a myriad of challenges that go above and beyond anything their predecessors had to deal with. To confront the realities of the new marketplace, facilities must be both productive and extremely agile, and managers must have complete end-to-end visibility into warehouse and transportation processes. The only way for distribution centers to succeed in today's environment is to embrace mobile technologies and abandon the dated tools and systems of the past. Those who fail to do so will ultimately lose out to their more agile, more informed competitors.
Eric Lamphier is senior director of product management at Manhattan Associates.