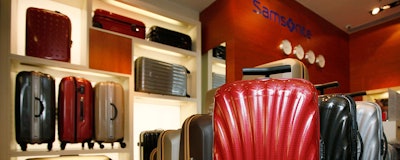 HONG KONG (AP) — Luggage maker Samsonite said Friday its CEO has stepped down following a report by a short-seller questioning his credentials and the company's accounting.
Ramesh Tainwala resigned for personal reasons, which Samsonite's board decided was in the best interests of the company and its shareholders, the company said in a statement to the Hong Kong stock exchange.
A research report issued by U.S.-based short-seller Blue Orca a week earlier said Tainwala had falsely claimed on his resume that he earned a doctorate degree in business administration from Union Institute and University in Cincinnati.
Samsonite said its board took the allegations seriously but added it had accurately disclosed Tainwala's educational background since it went public in Hong Kong in 2011. The company's latest annual report did not refer to him as a "Dr." but Blue Orca said it found such references in U.S. filings dating from before the company was delisted from U.S. trading more than a decade ago, in Indian filings and during one earnings call with analysts after its Hong Kong IPO.
Tainwala, 58, became CEO in 2014. He joined the company in 1995, after working in India's plastics industry. He will be replaced by Samsonite's chief financial officer, Kyle Gendreau.
Blue Orca also alleged Samsonite played "accounting games" related to its 2016 purchase of luxury baggage maker Tumi.
Samsonite called the 48-page report "one-sided and misleading," and said the conclusions about its financial results were incorrect.
Blue Orca's report was its first after it was founded earlier in May by Soren Aandahl, formerly the chief investment officer at another short-seller, Glaucus Research. Investors who "short" stocks profit by betting that their prices will fall.
Luxembourg-based Samsonite's Hong Kong-listed shares, which had tumbled on the report, jumped more than 7 percent after the announcement.
The company was founded in Denver more than a century ago and family owned until the 1970s, when various investors and private equity groups took over. It listed its shares in Hong Kong to better capture growth in the Chinese consumer market.