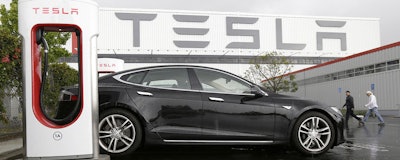 Ranked by Forbes as the most innovative company in the world, Tesla Motors is certainly not a company afraid to push technological boundaries. So when the company's enigmatic CEO, Elon Musk, announced via Twitter the imminent unveiling of an 'unexpected product', rumours and predictions were abound. While the reveal was due to land today, Musk tweeted a few hours ago that it would be delayed until Wednesday to allow for 'a few more days of refinement'.

As the infographic below shows, Tesla has been investing more and more in research and development over the last few years. In the fiscal year ending December 31, 2015, R&D reached 717.9 million U.S. dollars, setting a clear upward trend. Musk and co. are clearly playing the long game, with this positive spending almost mirrored by the financial losses made each period. Perhaps on Wednesday, some of the fruits of this investment will be revealed to the world.
This chart shows spending on R&D and losses made by Tesla from 2010 to 2015.