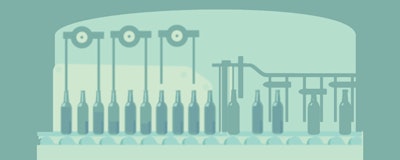 In order to help manage all that goes into brewing beer, many craft breweries have begun looking for ways to automate via a CMMS solution. Better Buys recently interviewed various breweries in the Philadelphia region, including eMaint customer Victory Brewing, to discuss the who, what, when, where and how of brewing automation and maintenance management. They created a graphic to illustrate which processes are automated within the centralized brew house, bottling and canning lines and keg washers.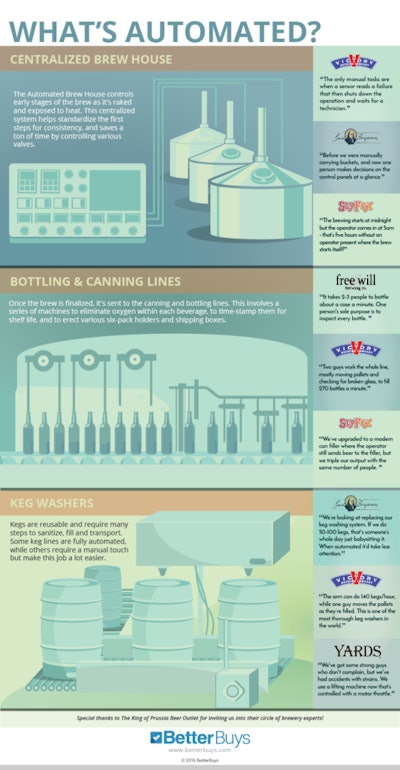 The breweries conduct maintenance using these techniques:
Preventive Maintenance Scheduling
Maintenance that is regularly performed on a piece of equipment to reduce the probability of failures. Preventive maintenance is performed while the equipment is in regular working order to avoid unexpected breakdowns.
Predictive Maintenance
Techniques that are designed to help determine the condition of in-service equipment in order to predict when maintenance should be performed. This approach promises cost savings over routine or time-based preventive maintenance, because tasks are performed only when warranted.
Condition-Monitoring
The process of monitoring a parameter of condition in machinery (vibration, temperature etc.), in order to identify a significant change which is indicative of a developing fault. The use of condition monitoring allows maintenance to be scheduled, or other actions to be taken to prevent failure and avoid its consequences.
Yearly Check-Ups
The machines' manufacturers typically visit the breweries and assess machines once a year.
When asked about how their maintenance functioned, Victory's Brewing Manager James Gentile said their maintenance staff has two full-time technicians per shift, one manager and a supervisor.
Since implementing eMaint, the team has improved maintenance planning and worked their way out a reactive cycle. They currently use preventive scheduling to keep equipment running at peak performance and avoid unexpected breakdowns with activities such as changing pump seals consistently. eMaint is used all throughout the Victory Brewing facility, including management of their maintenance, repair and operations (MRO) inventory.