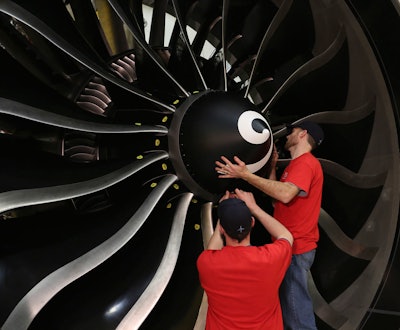 For the first time, GE Aviation will be using a variety of 3D printed parts in the GE9X jet engine it is developing for Boeing's next-generation wide-body passenger jet.
The engine will include many 3D-printed parts and the latest composite materials, including the light and heat-resistant space-age materials called ceramic-matrix composites (CMCs), according to GE Reports.
The new plane is wider than the body of a Boeing 737 and more powerful than America's first manned space rocket. Although the world's largest engine isn't scheduled to enter service until around 2020, the company already has recorded some 700 orders and commitments valued at $28 billion.
In the past 5 years, GE Aviation has invested $4.3 billion in the U.S. and another $1.1 billion abroad to meet production goals for The GE9X jet engine.
Another new jet engine called LEAP, which was developed by CFM International, a joint venture between GE and France's Safran Aircraft Engines, has already started flying. It also holds components from CMCs and 3D-printed fuel nozzles. CFM has received orders for 12,200 engines valued at $170 billion at list price.
The U.S. investments that GE Aviation has made since 2011 include $214 million to build five new high-tech plants, adding about 2 million square feet of new manufacturing floor space. The locations for the plants, some of which are already open, are Ellisville, MS; Auburn, AL; Asheville, NC; Lafayette, IN; and Huntsville, AL.
GE Aviation also has upgraded its current plants in West Jefferson, NC and Hooksett, NH. Additionally, it created centers for additive manufacturing and other emerging technologies such as digital engine monitoring and CMC development.
GE is investing heavily in 3D printing or, as it is often referred to. additive manufacturing. GE's Center for Additive Technology Advancement (CATA), located near Pittsburgh in Findlay Township, PA, will be the company's flagship center for additive manufacturing with a focus on developing and implementing industrial applications.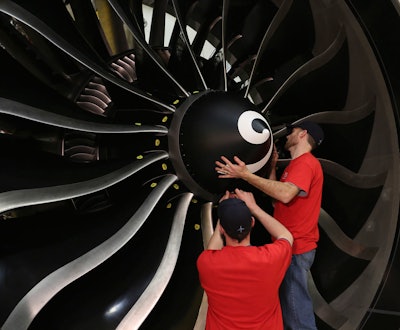 The company says the new facility represents a $39 million investment over three years and will result in the creation of 50 high-tech engineering jobs initially, in disciplines ranging from mechanical and electrical to systems and software engineering. The center is GE's first multi-modal site in the U.S. designed as an innovation hub offering training and development in both design and applications.
Six months ago GE announced plans to acquire two suppliers of additive manufacturing equipment, Arcam AB and SLM Solutions Group AG, for a combined $1.4 billion.
"Additive manufacturing is a key part of GE's evolution into a digital industrial company. We are creating a more productive world with our innovative world-class machines, materials and software," said GE chairman and CEO Jeff Immelt. "We are poised to not only benefit from this movement as a customer, but spearhead it as a leading supplier. Additive manufacturing will drive new levels of productivity for GE, our customers, including a wide array of additive manufacturing customers and for the industrial world."
GE expects to grow the new additive manufacturing business to $1 billion by 2020 and expects $3-5 billion of product cost-out across the company over the next 10 years.
Jack Keough was editor of Industrial Distribution for 26 years, and founded ID's long-running Big 50 List. He is currently a contributing editor. Jack the president of Keough Business Communications in Foxboro, Massachusetts, and often speaks to various groups and trade associations on distribution issues.