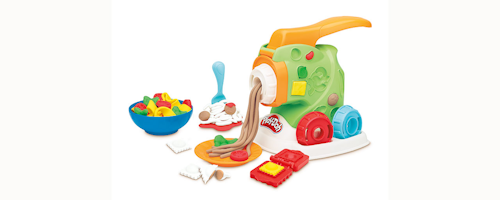 After more than a decade, everyone's favorite children's modeling clay, Play-Doh,  is coming back to America.
Granted, the availability to purchase Play-Doh never left the United States, the product hasn't been manufactured here since 2004. According to the Wall Street Journal, Hasbro has relied on factories in Turkey and China to produce the 'Doh.
Hasbro announced that starting mid-2018, the company will work with a manufacturing partner to produce Play-Doh at a facility in East Longmeadow, MA. Hasbro actually doesn't own any factories in the U.S. and in fact sold the East Longmeadow facility to Belgium-based Cartamundi NV in 2015.
Hasbro estimates Cartamundi will hire an additional 20 employees to support the Play-Doh production.
Even with the addition of the U.S. manufacturing line, Hasbro plans to continue to import some Play-Doh from China and Turkey to sell in the U.S. However, the move to bring production back to the U.S. goes against toy manufacturing trends. According to research firm estimates, offshore toy production is around 98 percent.
Businesses have seen increased pressure from the current administration to stop offshoring manufacturing and make products in America again. However, Hasbro officials say the move wasn't in response to President Donald Trump. Instead, the company has seen a steady growth in sales — global Play-Doh sales have increased on average 20 percent annually over five years.
"We're not replacing volume, we're adding volume," Hasbro Chief Executive Brian Goldner told the Wall Street Journal.
Goldner said that while some costs may be higher for Play-Doh made in the U.S. versus overseas, the difference will likely be evened out by a lower shipping rate.