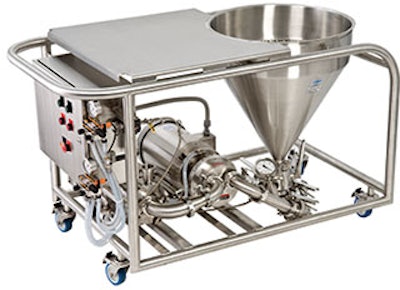 Tightening food safety standards and regulations are driving equipment innovations that enhance sanitation while speeding changeovers, boosting productivity and reducing downtime.
To succeed in the competitive dairy industry, managers from the CEO to the plant floor must focus on several, often overlapping priorities. Sourcing and specification of everything from ingredients, materials and machinery must be in line with corporate goals, but the top priority is always food safety. Dairy industry professionals will get a first-hand look at these innovations at PACK EXPO Las Vegas 2013 from September 23–25 at the Las Vegas, Convention Center in Las Vegas, Nev. 
Automation boots food safety
Automation is an integral part of enhancing both food safety and efficiency because reducing manual touch-points minimizes the risk of employee handling as it speeds throughput. Additionally, when machine and line automation systems tie into higher-level information networks, they can have impact that extends food safety accountability and business efficiency from manufacturing to storage and retrieval to traceability across the supply chain.
Delkor's high speed vision system combines both of these qualities for product inspection with gentle or "soft" automatic rejection, and its and PLC-based controls and operator interface software, aid in compliance tracking, quality control and process uptime.
The solution also provides fast changeover to enable food safety compliance without sacrificing productivity.
Another provider to cheese processing, Reiser (Booth #5825), offers its latest innovations with a Vemag Portioner that combines forming, portioning, depositing, filling and extruding functions with attachments users can swap out in minutes to accommodate cheese blocks, slices, sticks and shreds and deposit portions into cups, trays, containers and more. The USDA and 3-A compliant HP Series Dairy Design, like all models, features stainless steel construction and an easy-to-sanitize configuration.
Supplier partnerships are increasingly critical
Now more than ever, dairy manufacturers must lean on their suppliers as a guiding resource for regulatory compliance. These relationships are also critical to implementing solutions that enhance efficiency while meeting food safety standards, starting with the earliest stages of a project and especially in the case of equipment built with components and sub-assemblies from multiple suppliers.
"One of our OEM accounts recently installed several of our larger FKL positive displacement pumps for transferring cheese curds," Fristam's Wells says. The equipment maker needed a CIP-able pump that could also provide gentle handling to reduce the number of small cheese fines in transferring curds. "The end-user ran several tests and found that our FKL cleaned up well and reduced the number of cheese fines, a considerable and measurable amount," he says, compared to the standard pump the turnkey system seller would otherwise have provided.
In another example of supplier partnering, the Diversey brand from Sealed Air (Booth #1141) reports that "working closely with major membrane manufacturers and OEMs" is part of the company's farm-to-fork food safety strategy. Diversey's Divos line of cleaning agents is specifically designed to clean membrane systems such as microfiltration, ultrafiltration, nanofiltration and reverse osmosis filters using complex additives, enzymes and detergents that penetrate dairy soils to speed cleaning of dairy pasteurizers.
"Whether our customers are committed to reducing their environmental footprint or focused on meeting retailer or federal guidelines for food safety and even organic labeling, we have a solution that can help them," says Steve Dryden, Sector Specialist Manager for Sealed Air Food and Beverage.
Supplier partnering is both a best practice and increasingly necessary for meeting plant record keeping, track-and-trace procedures and supplier verification as dictated by the Food Safety Modernization Act as well as market-driven standards such as the Global Food Safety Initiative.
Whether by law or market demand, prevention is driving food safety. Today's and tomorrow's dairies will be following HACCP and food safety management plans to incorporate a full-lifecycle approach to reducing risk, improving compliance and ultimately, ensuring the safety of the food supply.
Manufacturers in the dairy sector can learn more about the challenges and solutions surrounding food safety regulations and connect with supplier partners that can help them ensure compliance at PACK EXPO Las Vegas 2013.Registration is open at www.packexpo.com. Admission to the show floor is $30 through Sept. 9 and $60 thereafter.
PMMI, the Association for Packaging and Processing Technologies, is a trade association representing over 600 packaging and processing supply chain companies that provide a full range of packaging and processing machinery, materials, components and containers. PMMI actively brings buyers and sellers together through programs and events such as The PACK EXPO family of trade shows, packexpo.com, PMT Magazine, PACK EXPO Show Daily, networking events and educational programs.
PMMI organizes the PACK EXPO trade shows: PACK EXPO International, PACK EXPO Las Vegas, PACK EXPO East, EXPO PACK Mexico and EXPO PACK Guadalajara, connecting participants in the packaging and processing supply chain with their customers around the world. Coming Up: PACK EXPO Las Vegas 2013, Sept. 23–25, 2013 (Las Vegas Convention Center); PACK EXPO International 2014, Nov. 2-5, 2014 (McCormick Place, Chicago); Pharma EXPO, co-located with PACK EXPO International 2014, presented jointly with the International Society for Pharmaceutical Engineering (ISPE); EXPO PACK México 2014; PACK EXPO East, debuting Feb. 2–4, 2015 (Pennsylvania Convention Center, Philadelphia); EXPO PACK Guadalajara 2015, March 18-20, 2015(Guadalajara, Jalisco, Mexico).
Learn more about PMMI and the PACK EXPO trade shows at PMMI.org and Packexpo.com.