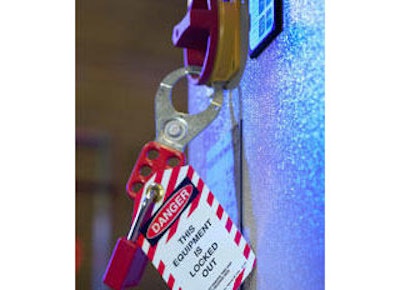 A sudden chemical release or unexpected machine movement can injure or kill an employee who is servicing, maintaining or repairing process equipment. OSHA's lockout/tagout standard (1910.147) requires employers to authorize the employees who do this work and provide them with the instructions and equipment they need to completely deenergize the machinery. Lockout/tagout procedures assure authorized employees that the equipment is safe to work on.
Locking out process equipment can become very complicated very quickly. Paying close attention to the following three concerns will decrease the risks:
Group lockout
Procedures to eliminate hazards from flowable materials in pipes
The extent of the lockout
Group lockout
Group lockout provisions apply when more than one authorized employee will be working on the equipment. This is a fairly common occurrence when process equipment needs service, maintenance, or repair.
The lockout/tagout standard's provisions for group lockout are at 1910.147(f)(3). The critical requirement is that each authorized employee must affix a personal lockout device to the group lockout device, group lockbox or comparable mechanism when he begins work. He must remove the device when he stops working on the machine. Primary responsibility is vested in an authorized employee for a set number of employees working under the protection of a group lockout device. Part of this responsibility is to keep track of the exposure status of individual group members.