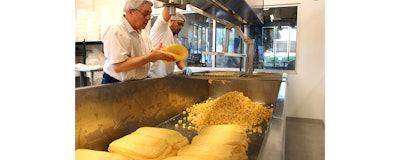 It reads like a quintessential Wisconsin story. After growing up in Milwaukee and getting his law degree, Bob Wills spent four years working in Chicago and Washington D.C. Then he fell in love with a cheesemaker's daughter, came back to Wisconsin and eventually took over his in-law's business: a thriving company called Cedar Grove Cheese. Or as he puts it on his company's bio, he "achieved his goal of becoming a Wisconsin stereotype."
But several years later, the story took a slightly unlikely turn: back to Wills' roots in Milwaukee. After forging a partnership with a local developer, Wills set out to open the city's first cheese factory. While artisan cheesemaking can be scaled down to fit into an urban setting, few companies have ventured to do it. In fact, only about six urban cheese factories exist in America.
In 2012, Wills and his team opened Clock Shadow Creamery in what is now one of the city's up-and-coming, artisan-food driven neighborhoods, Walker's Point. Since then, Clock Shadow has solidified its presence in the neighborhood: forging partnerships with other artisan food makers, offering tours of its factory and winning multiple awards for its cheese — all while cranking out almost a thousand pounds of cheese a day.
In addition, the company has received attention for being located in one of the most innovative and sustainable buildings in the city — which has allowed the company to not just promote a message of good cheese, but also of good business practices.
The venture, however, has not been without its challenges.
In a sit down interview at Cedar Grove, Wills' medium-scale cheese factory located in the rolling countryside of southwest Wisconsin, Wills dished on the ups and downs of his big bet on a small factory.
The Urban Setting
Believe it or not, not everyone in Wisconsin, the cheese capital of the world, knows how cheese is made or has seen the process in action. For many in Milwaukee, Clock Shadow's existence has changed that.
The creamery opened a window (literally) to the process of cheesemaking by designing the factory so that it is behind glass and not a wall. Now, anyone walking by on the street can stop and gaze in as little mountains of cheese curds and cheddar make their way down the line.
"When I was growing up in Milwaukee, my father worked at the newspaper plant and there were these large windows where you could watch the paper go down the presses. I was mesmerized," Wills says of the decision to create the factory space with open windows. "So when I designed the building I wanted to make it so people walking by could see everything that's going on."
It's one of many innovative approaches the creamy took when setting up the factory, which it got to do from the ground up.
The space Clock Shadow sits on has a long and storied history. The plot was once home to A.O. Corporation, which manufactured baby carriages and bike parts in the mid-19th century. By 1895, A.O. was the country's biggest manufacturer of bike parts. Several automakers, including the Ford Motor
Company, took notice and hired A.O. to make car frames. A.O. eventually got so big it had to relocate — leaving a building that was occupied by several tenants, at least one of whom contributed major pollution to the site.
By the time Wills came along, all that was left was an empty field that had been labeled a "Brownfield site" by the Environmental Protection Agency — a designation that indicates the presence of hazardous substances or contaminants.
Wills says the neighborhood was also one of the poorest in the state with a fairly high crime rate and high unemployment. Empty industrial buildings surrounded the plot.
But a young developer in the city, Juli Kaufmann, had a vision for the site. After getting Wills on board with the mission of designing a green building that would be a home to local businesses and help revitalize the neighborhood, the idea for an urban cheese factory was born.
In 2012, Clock Shadow opened in the bottom level of the newly constructed Fix Building, which transformed the abandoned piece of wasteland into a gathering space for the community. The $7 million dollar, four-story building sits just a few blocks from the Allen Bradley Rockwell clock tower, the biggest four-sided clock in the western hemisphere that the creamery is named after.
The Fix Building, which Wills calls one of the "greenest in the city" boasts a long list of sustainable attributes.
About half of the brick structure was made from materials recycled from other buildings, such as saved bricks, metal frames and barrels. Geothermal wells are used to provide all of the building's heating and cooling. Rainwater is collected for the building's plumbing. And the rooftop is home to a community garden and beehive, as well as a space that's used for concerts and farmers' markets in the summer.
The factory also has a net-zero carbon footprint — meaning that it offsets any carbon dioxide it emits by generating renewable energy. Specifically, Clock Shadow ships whey byproduct from its operations to a nearby casino that uses food waste from around Milwaukee to produce energy.
As for the neighborhood, Wills says that the transformation spurred by the Fix Building, along with many other local businesses and community activists, has been huge.
"Five years later, it's almost unrecognizable. The neighborhood is now a magnet for development," he says. "There are four breweries, two distilleries, a chocolate shop and an ice cream company within six blocks of where we're at."
The Economics of Scale
One of Clock Shadow's initial goals was simple: provide Milwaukee residents with fresh cheese.
Previously, Wills' other company, Cedar Grove, sold its cheese in Milwaukee, along with many others across the state. But Cedar Grove's location in Plain, Wis. is about two hours from the city — a distance that can keep the cheese from hitting the streets at its peak freshness.
Now, Clock Shadow offers about six different cheese varieties, including squeaky cheese curds, cheddar and queso, fresh from the factory. Wills says that focus on freshness serves as a competitive advantage and helps compensate for higher production costs.
Clock Shadow's front-end retail space also sells an array of accoutrements, like drinks, jams and crackers, to help customers put together a tasty cheese-centered spread. It also has a lunch café with takeout eats like grilled cheese.
The more challenging part to the operation has been about making the economics of the factory work on a small scale. Specifically Wills says that recent regulatory changes, such as the Food and Drug Administration's Food Safety Modernization Act (FSMA), have put an additional strain on finances.
Under FSMA, Wills says the company has had to develop new risk-based safety procedures and purchase a computerized system to track all of the product moving through the factory so that in the event of a recall, consumers and buyers can be more easily notified.
Many major retailers have also begun requiring more audits of manufacturing facilities for safety. Previously, audits from state and federal agencies were sufficient for these major buyers — and those audits were paid for by the government.
Now, Wills says companies have to pay for third-party audits that can cost as much as $60,000.
"It's good. It's going to protect consumers, there's no question," Wills explains. But, Wills says when you're a smaller manufacturer, it's more difficult to absorb the new costs.
"If I have to pay $60,000 for a third-party audit and environmental testing, [at a small factory] it might be about 10 percent of the costs," Wills explains. "[At a mid-sized company like Cedar Grove], food safety would be more like 1 or 2 percent of the company's costs."
Small-scale manufacturing can also be less efficient.
"At Cedar Grove, if I make a batch of 2,200 pounds of cheese, I have about the same amount of labor as what I do at Clock Shadow for 600 pounds of cheese. So my labor costs per pound are about five times as high," Wills says.
There are advantages, however, to dealing with issues like food safety compliance that Wills says helps the company overall.
"I think it's improving our operation," Wills says. "That tracking system not only provides food safety, it also provides data I can use to improve efficiency."
Clock Shadow also has a distinct competitive advantage that other small-scale manufacturers typically don't: Wills' other company, Cedar Grove, acts like a big brother to Clock Shadow.
Wills says Clock Shadow is able to inherit safety systems that have already been developed at Cedar Grove, which helps reduce costs. Cedar Grove also helps with some of Clock Shadow's administrative tasks, like bookkeeping.
But Wills worries about what the increased regulatory costs could mean for other small-scale manufacturers. Cheesemakers, in particular, have been hit hard by major busts in the industry over the last few decades.
"We went through a period when the cheese industry was getting wiped out," Wills says. "We went from about 2,600 cheese businesses in Wisconsin to fewer than 100. Now we're back up to about 150 because there have been a lot of new artisanal companies. But now I can see us going back the other way."
The Road Ahead
Wills has plenty of plans to keep Clock Shadow churning along.
One promising facet of the business Wills hopes to develop is selling to other food manufacturers who could use Clock Shadow cheeses in their products, like frozen pizzas or cheese blintzes. Part of the challenge with that is finding manufacturers who support the concept of using local ingredients.
"I haven't given up on it," Wills says. "That's sort of the third leg of the stool we want to develop."
Meanwhile, the company continues to generate its revenue from selling to retailers and directly to local consumers — many of which help inform Clock Shadow's inventory.
Because the factory sits on the edge of a Hispanic neighborhood, the company offers different queso varieties. The city's European culture has also guided Clock Shadow toward an unexpected cheese variety.
"One of the benefits of being local is getting immediate feedback," Wills explains. "People were coming in with recipes from their grandparents that called for quark. In Europe, quark is everywhere. So we started making it because we had this demand."
A soft, slightly tangy cheese that Wills says is somewhere between a cream cheese and yogurt, quark isn't well-known in the U.S., but has become one of Clock Shadow's signature products. Because of quark's versatility, Clock Shadow makes sweet and savory varieties like 'garlic and dill,' 'maple syrup' and one mixed with African chutney.
"It's such a versatile cheese, chefs love it," Wills says.
Another product the company recently developed is called "Chees-E-Que" — cheese on a stick that can be thrown on the grill.
"It crisps on the outside and gets gooey inside, but doesn't melt," Wills says.
The company has also forged partnerships with other businesses to co-brand products. One company, for example, uses Clock Shadow cheese to process its own variety of pimento cheese.
And Clock Shadow's urban locale also puts it in close proximity to a handful of farmers' markets, where the company can sell its goods and increase brand awareness throughout the city.
All in all, Clock Shadow continues to cement its place in Milwaukee and show that an operation typically left out near the farm can be right at home in the big city.