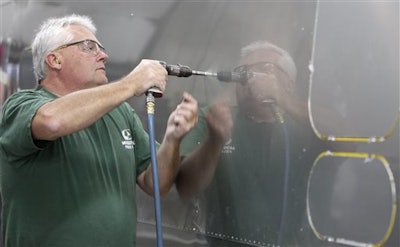 JACKSON, Miss. — The strange recruitment of a potential $1.2 billion aluminum mill rolls on.
American Specialty Alloys had promised to announce a site and a financing plan by the end of the year. The company sparked a lot of speculation by putting a countdown clock on its website that ended at 7 p.m. December 19. But Chief Marketing Officer George Riel said that the countdown was only to a holiday party that also doubled as a "roll out" event for "staff, partners and customers."
Riel now says the company plans to publicly name a site in the first three months of 2015. The company hopes to break ground in March and wants its first phase to begin operations by late 2016.
"There's a lot of moving parts and we've been very diligent and very careful about where we build," Riel said in a telephone interview Dec. 23.
People interested in working for the company can now apply for jobs on its website, which touts the company as providing "specialty grade aluminum-titanium for automotive and aerospace."
The delay in itself might not be remarkable. But the company's selection process seems a little unusual.
For example, American Specialty Alloys sent out a news release in November saying it planned a $1.2 billion aluminum mill that would employ at least 650 workers. The company says it will use innovative technology to more cheaply make strong aluminum for cars and airplanes.
Lots of companies announce plans to build a plant in a region and then name a site later. But such releases setting up a bake-off between potential sites usually go out earlier in the process. In this case, American Specialty Alloys had already incorporated in Mississippi and lists an address in an industrial area in Columbus.
The company has also been granted some environmental permits at a site near Golden Triangle Regional Airport in Lowndes County.
American Specialty Alloys says it is considering other locations, and Riel says the company "has very good options" when it comes to choosing a site. He also says the company has not yet sought permits in any other state, although it has plans to.
Then there's the question of incentives. Joe Max Higgins, the lead industrial developer for Golden Triangle Development Link, hasn't returned calls to talk about American Specialty Alloys. Higgins is an experienced big-game hunter when it comes to bagging industries such as what is now Steel Dynamics, Yokohama Rubber Co., Airbus Helicopters and PACCAR.
But recruiting an industry with such a large investment would typically involve action by the Legislature. The state offered Yokohama more than $330 million in cash and tax breaks if it builds all the phases of a $1.2 billion tire plant in West Point, holding a brief special session to firm up the deal. State Rep. Gary Chism, R-Columbus, said earlier this month that he knew little about American Specialty Alloys or what might be asked of the Legislature, though.
There's also the mystery of where the money is coming from. The people associated with American Specialty Alloys appear to be credible, and outlets tracking metal production take the project seriously. For example, American Metals Market has reported that industry sources expect the company to sell most of its production to Chrysler and BMW.
But when asked how the company will raise $1.2 billion to build the plant, Riel says only that "private investors" will foot the bill.
All these questions may amount to little if Gov. Phil Bryant turns a golden shovel in a Lowndes County field early next year. But for now, the answers are unclear.