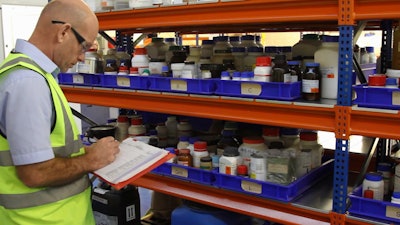 Chemical Data Reporting (CDR) can be a daunting undertaking. Changes coming later this year are going to up the ante.
By September 30, manufacturers that import or produce chemicals will be required under CDR rules to report on any substance that meets the new, lower threshold of 25,000 pounds — and they'll need to report on not just one year, but the last four years (2012-2015). This means that hundreds of chemicals will be subject to CDR reporting for the first time.
But, according to James Votaw, a partner with Manatt, Phelps & Phillips, CDR can be a blessing in disguise.
First, here are a few ways companies inadvertently jeopardize compliance.
Byproducts: Sometimes in reporting, companies don't realize they have to include byproducts or waste if they're recycled or used for a subsequent commercial purpose.
"A classic example is flue-gas desulfurization," Votaw explains. "In a power plant they use lime stone to remove sulfur from the air emissions stream, but it then gets converted to a product that can be used in a wall board in other things."
According to Votaw, this is exactly the kind of situation where the power plant would need to report the byproduct.
Imports: Let's say you're importing pens. The plastic cases wouldn't need to be reported under CDR because "articles" are generally exempt. But in a case like this, the ink inside them would fall into CDR reporting.
"You would need to know the chemical constituents of that ink," Votaw says.
But, if done properly, CDR reporting will be helpful for meeting other regulations.
TSCA reform: Votaw says that CDR reporting will dovetail into regulatory requirements for the EPA.
Once TSCA reform kicks in, the EPA will be tasked with conducting safety evaluations for thousands of chemicals. According to Votaw, one of the ways the EPA is planning to streamline this process is by asking manufacturers to report on all of the chemicals they have produced in the last 10 years. Any chemicals not in production anymore will be considered "inactive." The EPA will then group the remaining "active" chemicals into high and low priority categories.
Once high-priority chemicals are established, the EPA could come knocking to ask for safety evaluations for those chemicals. If done correctly, CDR reporting can help your company conduct robust environmental safety and health studies, as well as an analysis of how the chemical is used downstream, which will be useful when it's time to report to the EPA. In other words, it's two regulatory birds with one stone.
Dodging potential fines: When going through the CDR process, Votaw says it's the perfect time to do a TSCA compliance audit. With legal help, companies can use that opportunity of going through chemical inventory to also make sure all reporting required for TSCA is complete and that no chemicals have slipped through the cracks.
If companies catch TSCA reporting errors, they can then self-correct. This will help the company avoid EPA fines that can be as high as about $100,000.
"The theme is looking very closely and identifying all of the chemicals in your process and making decisions about that inventory," Votaw says. "Anticipating future EPA changes will help you be set up to get through that process easily."