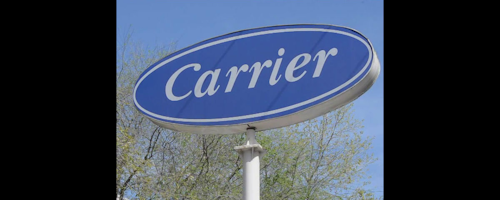 Carrier's decision to close an Indianapolis factory and move its production to Mexico will reportedly cost the Hoosier State's economy more than $100 million per year.
The air conditioning company plans to shutter the facility and eliminate about 1,400 jobs over the next three years, which drew labor protests and heated political rhetoric ahead of the state's May presidential primary.
The lost jobs equate to about $67 million in annual income, but an analysis by Indiana University's Kelley School of Business said that the impact across the state would be much higher.
United Technologies Electronic Controls — like Carrier, a subsidiary of United Technologies Corp. — is also shifting production from Indiana to Mexico and will shutter a Huntington factory and its 700 jobs.
Anticipated losses by Carrier suppliers and other related businesses in Indiana will bring the total statewide impact to $108 million per year and end more than 2,700 jobs.
"The closing of the plant will have a much wider impact than just the immediate area of the city," Indiana Business Research Center director Jerry Conover told the Indianapolis Star.
Although the entire state will be impacted, observers were particularly worried about the west side neighborhood surrounding the Carrier plant, which is primarily middle-income and employed in manufacturing.
Indiana University economist David Audretsch told the paper that the closing could trigger a "downward spiral" nearby, particularly as the company and union spar over severance.
"For the people who are laid off and people who are dependents, it's going to be pretty devastating," Audretsch said.