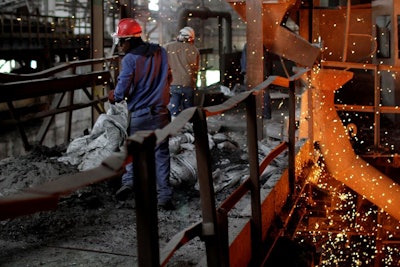 Europe's second-largest steelmaker this week announced another round of layoffs in the U.K. and renewed calls for regulators to crack down on imports from China.

Tata Steel said that 1,050 jobs would be cut, largely in Wales. Port Talbot, on Wales' southern coast, will account for 750 lost jobs.

The announcement came three months after India-based Tata announced 1,200 layoffs at U.K. plants.

The company attributed its October decision to overproduction by China's steel industry and a resulting influx of cheap imports. On Monday, Tata again called on regulators to act.
"We need the European Commission to accelerate its response to unfairly traded imports and increase the robustness of its actions," said Tata European chief Karl Koehler. "Not doing so threatens the future of the entire European steel industry."

Prime Minister David Cameron said that the government would help affected communities and added that he wants "a strong British steel industry at the heart of our important manufacturing base."

The leader of the British trade union Community, however, accused Cameron of "cheerleading for China in Europe."
"You can't wring your hands over steel job losses and then shake hands with the Chinese government over cozy trade deals," said general secretary Roy Rickhuss.