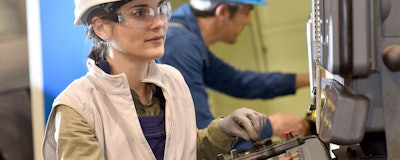 Training the next generation of the workforce must become top priority for manufacturers. For nearly a decade, retiring baby boomers, the resulting skills gap, and shortages of skilled workers have been topics of much debate. While academia, government agencies, trade associations, and technology vendors have all made some strides toward easing the pain, the issues still exist and manufacturers need to do more. It's time for companies to take more ownership of the problem and make a serious play for recruiting and training the workforce of the future.
Manufacturers may wish this issue could go away or "someone" could solve it for them. Shouldn't the education system step up and focus on Science Technology, Engineering and Math (STEM) courses? Why can't the government help fund apprenticeship programs? How about turning to trade associations, like the National Association of Manufacturers (NAM), to convince young people that manufacturing jobs are good jobs?
That's not enough. While partnering with other stakeholders is important, delegation won't completely resolve the issues long-term. Putting the right-skilled workforce in place can only be achieved by manufacturers taking an active role in redefining the necessary skills, changing false perceptions, and investing time and resources into making sure existing workers and potential workers have access to the education needed. This isn't a job that should be outsourced to someone else.
Manufacturers have numerous challenges to address today. Each have a mile-long laundry list of critical operational and logistics obstacles, customer demands, and escalating market pressures around technology, digital opportunities, and evolving processes. Does training the modern workforce make the cut of top priority issues? It should. Here are eight reasons why training needs to be a top priority for manufacturers.
No. 1 - Manufacturers know best
No other organization or partner can envision the ideal workforce for the next generation of manufacturers. While academia, vendors, and suppliers may have their own visions of ideal job candidates, those outsiders must partner with manufacturers to define the ideal mix of creativity, technical training, team skills, learning capabilities and analytical aptitude that is needed in manufacturing plants.
No. 2 - Credibility counts.
One of the biggest hurdles in recruiting a modern workforce is the false perception that manufacturing plants are dangerous, dirty, scary places to work with little stability and career opportunities. The public, particularly recent graduates, is skeptical about the manufacturing's future. Organizations, like NAM, can invest heavily in changing perceptions, but the local plants, have to back up the claims and provide proof that their organization has staying power and will provide reliable employment and benefits to candidates.
No. 3 - Training transcends a single event
The current rate of change means that the workforce must continue learning, adapting, and embracing innovation long after the candidate leaves a college, apprenticeship program or vocational school. Manufacturers must continue to offer educational opportunities — showing workers the benefits of learning and building a company culture that allows time for classes, workshops and lunch and learn programs while rewarding continuing education with growth opportunities.
No. 4 - Apprenticeships and mentor programs work
These classic programs were successful for generations — and could still be. On-site learning programs feature hands-on applications, with realistic learning opportunities specific to the industry and plant, rather than textbook generic situations that may lack relevance. Those in specialized industries will seldom find third party educational resources with relevant knowledge. They need to create their own.
No. 5 - Building loyalty
Providing the training and ongoing education shows personnel they are valued, and their employer is committed to them. Investing time and effort into education demonstrates a supportive environment and helps build loyalty among the workforce — ultimately reducing turnover.
No. 6 - Education is a two-way street
When the manufacturer takes ownership of directly training and nurturing workforce candidates, offering education to people with a wide variety of existing skill sets, the manufacturer can also learn. Some fresh new ideas may come into the organization this way, expanding the collective mindset and challenging assumptions. Teachers often learn from students.
No. 7 - Look inward
The current skills gap issue is critical for most manufacturers. Plants need skilled workers who can step in quickly and help move the organization into the digital era. Re-educating and up-skilling the current workforce may be the most expedient and practical way to make quick gains. Long-term education programs — which include involving more girls in STEM courses, encouraging vocational programs, and emphasizing engineering and IT programs to high school students — are valuable, but they will take time. Manufacturers need short-term solutions too.
No. 8 - Partnerships play a part
Manufacturers should continue to partner with organizations, vendors, and suppliers who are willing to help and can offer resources such as training materials, class speakers, and onsite workshops. Vendors often understand that they need to provide value to their customers and are willing to share the responsibility of training the workforce. Programs such as the Education Alliance Program, which partners with institutions of higher learning to provide software, training, and other resources, help educate students on best practices and software applications. This program also fosters dialogue between institutions and development teams, helping businesses discover new approaches to solving problems.
Manufacturers have many burdens — making it tempting to rely on academia, associations or suppliers to assume the role of training the new workforce. However, that is not the most effective solution, nor the timeliest. Manufacturers need swift action to ensure they have the workforce necessary to move forward in the era of digital disruption — meaning they must take responsibility. Organizations can turn to support from education programs and trade organizations like NAM. But, manufacturers must take the initiative, execute meaningful training programs, and follow through with continuous learning and growth opportunities for workers willing to invest time in learning and embracing change. Education should be continuous, evolving at the pace of change. It's the only way a manufacturers can remain relevant.
Mark Humphlett is Senior Director of Industry & Solution Strategy at Infor.