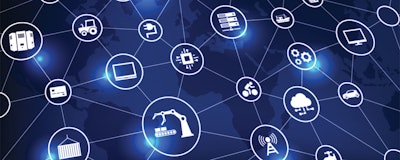 Festo Robotics introduces three solutions that work in concert with Rockwell Automation's data-driven manufacturing products, Festo announced during Rockwell's Automation Fair.
The Festo CPX-FB36 device provides Rockwell's FactoryTalk Analytics for Devices for valve diagnostics and valve terminal health information. This enables it to display a dashboard featuring valve data and up to a six-month history of the pneumatic response of a system. It connects Festo's VTEM digital pneumatic valve terminal into the Rockwell Automation Connected Enterprise.
VTEM valves can change functionality based on the downloadable apps chosen for them from Festo's app store, so they can potentially replace up to 50 pneumatic components. In particular, two new downloadable apps provide Soft Stop (fast acceleration for a linear actuator without requiring the use of shock absorbers) and model-based pressure control, for precise control of a pneumatic actuator.
Another linkage between Festo and Rockwell Automation is the upcoming CPX-IoT Gateway, which provides preconfigured dashboards for Festo devices, with a focus on energy saving and efficiency.
"The future of optimum overall equipment effectiveness and energy efficiency will rely on a collaborative maintenance environment and on intelligent devices that deliver real-time cloud-based analytics," said Frank Latino, Festo product manager for Ethernet/IP, in a press release. "At Automation Fair, Festo introduces three of its latest enablers for Rockwell Automation intelligent device initiatives."
The 2018 Rockwell Automation Fair took place in Philadelphia Nov. 14 and 15.