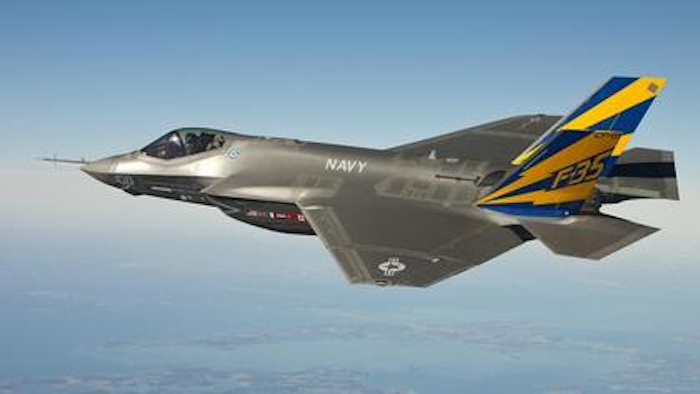 A newly released report suggests that a Marine Corps fighter jet previously thought fit for combat remains plagued with problems.
A memo from the Defense Department's top weapons tester — released by the watchdog group Project on Government Oversight — found that the Marines' version of the F-35 Joint Strike Fighter could present maintenance and reliability issues.
Marine Corps officials said that the jet passed a series of tests aboard the USS Wasp amphibious assault ship in May, but the director of the Pentagon's Operational Test and Evaluation Office said in a report two months later that the exercise was deeply flawed.
J. Michael Gilmore wrote in a memo that a "bona fide" test would require "conditions that were much more representative of real-world operations than those that were used during this deployment."
Specifically, Gilmore said that the Wasp's flight deck was relatively clear; during combat scenarios, other aircraft would be sharing both deck space and control systems.
In addition, the report said that the Lockheed Martin-made jets were unreliable and did not record the necessary number of flight hours to be declared combat-ready. Gilmore also said that "key combat mission systems were not installed in the aircraft or were not cleared for use."
The report is just the latest setback for the Pentagon's Joint Strike Fighter program, which has undergone 15 years of delays and cost increases; the F-35 is the most expensive weapons system in Defense Department history.
"The services are rushing to declare the F-35 ready for combat, ignoring clear readiness issues in order to show that the program is 'back on track,' but just saying something doesn't make it so," Rep. Jackie Speier, D-California and a frequent critic of the program, told CNN.
The Marine Corps, meanwhile, said that it disagrees with some of the weapons tester's findings.
"During OT-1, we wanted to prove that non-test F-35B aircraft could be operated and sustained aboard an L-class ship," the Corps said in a statement. "We successfully did that."