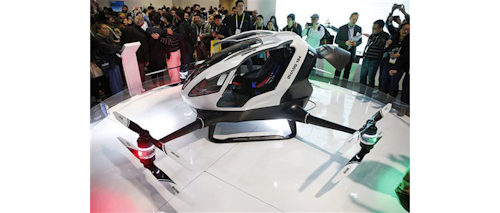 A Chinese company this week introduced a new drone capable of lifting a human passenger more than two miles into the air.
Ehang Inc. said that the first-of-its-kind electric aircraft, unveiled at the Consumer Electronics Show in Las Vegas, is designed to fly at elevations between 1,000 and 1,650 feet, but can reach a maximum altitude of 11,500 feet.
The Ehang 184, the Associated Press reports, resembles a small helicopter with four propellers at its base.
It can carry up to 220 pounds in its cabin — equipped with air conditioning and a reading light — and fly for 23 minutes at a top speed of 63 miles per hour. Passengers enter their desired route prior to flying, then use a tablet to select either "take off" or "land" commands.
When grounded, its propellers can be folded up to fit in a conventional parking space.
"The whole world never had something like this before," Ehang co-founder Shang Hsiao told the AP.
The company hopes to sell the 184 for $200,000 to $300,000 beginning later this year, but the addition of a human passenger adds another thorny issue to an already tricky area of aircraft regulation.
The passenger, for instance, would not be able to manually control the vehicle in the event of a problem. An Ehang control center would instead guide the aircraft to the ground.
The company, however, said that quadcopters are much safer than conventional helicopters and that the new drone has been flown dozens of times in China — including with passengers inside.
The Federal Aviation Administration recently unveiled rules for unmanned drones and is working on regulations for commercial drones.