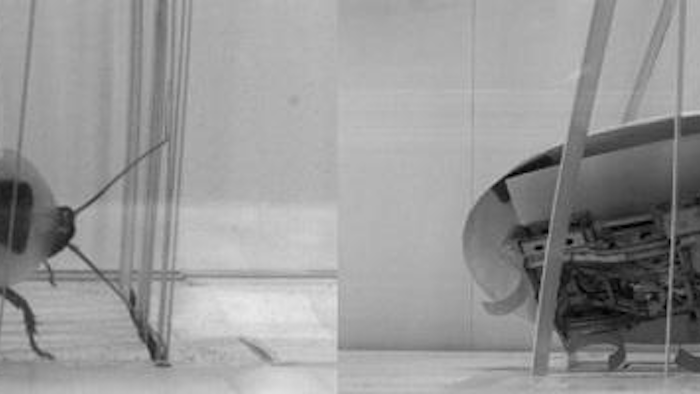 A robot that looks like a cockroach could be used to maneuver through cluttered, narrow environments such as mechanical structures or collapsed buildings.
In June, researchers at the University of California, Berkeley published their preliminary studies of the robot's movements in the journal Bioinspiration and Biomimetics.
"We showed that our robot can traverse grass-like beam obstacles at high probability, without adding any sensory feedback or changes in motor control, thanks to the thin, rounded shell that allows the robot body to roll to reduce terrain resistance," said Chen Li, the author of the study at the University of California, in a press release.
This required some experimentation. The researchers gave the cockroaches artificial shells of three different types (an oval cone, flat oval, or a flat rectangle) to see which body shape allowed them more maneuverability. These shells made it more difficult for the insects to move through small spaces. The researchers used high-speed cameras to watch as the cockroaches moved between vertical beams. When they had their natural shells, the cockroaches would often roll their body in order to fit through thin gaps, turning their sides to slip through at a narrower angle and pushing against the barriers with their legs.
Li called this particular type of "biomimetrics" terradynamic streamlining, meaning that it was inspired by the way streamlined animals and machines move through fluids.
They found that a robot fitted with a shell similar to that of the cockroaches would slip through narrow spaces by rolling naturally; the robot's programming did not need to be changed in order for it to successfully traverse an obstacle by rolling.
In the aftermath of the publication of their research, Li's group planned to study more terrain and more animal shapes in order to see how robots could benefit from alternative types of movement, including other terradynamic movements.