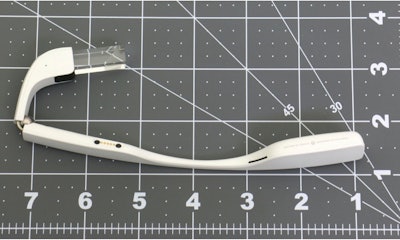 Google Glass is back, but this time it's geared toward enterprise businesses such as healthcare and manufacturing.
The search company has not publically announced the wearable's return; however, recent filings with the American Federal Communications Commission (FCC) reveal the first pictures of the redesigned device.
The new Glass has a larger glass prism and features a foldable arm so that it can be placed in compact areas. In addition, the device is waterproof, more durable, and has improved internal components.
In fact, internal photos of the wearable show a unit packed full of hardware. A speaker is visible from the photos, but the bone conduction pad is gone from the case. It also appears that Glass has transitioned to a more conventional speaker, as there is a slot in the case directly below where the speaker is positioned.
According to 9to5Google, the device will support 5 GHz Wi-Fi and will use Intel's low-power Atom processor, which provides improved heat management. Plus the new Glass will also have an improved battery and an external battery pack that attaches to the device via magnets.
The restyled glass is essentially designed with more durability needed in a healthcare setting. Most importantly, a camera light is now featured on the front of the wearable, which, according to a short user manual posted by the FCC, will turn green when the camera is on. This addition could ease public fears of being recorded without one's knowledge.
Despite the fact that the Wall Street Journal reported on the device's relaunch last July, there has been little word on the exact redesign until now. It is still unclear whether Google will launch a new Glass for consumers.
Would you use the new Google Glass in an enterprise business setting? Comment below or tweet @kaylieannduffy.