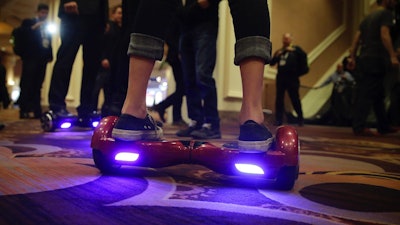 Cheap hoverboards — essentially wheeled platforms on which the user can balance — continue to explode in consumers' homes.
With reports of cheaply made batteries causing hoverboard fires earlier this month, it's no surprise that there would be more reports after Christmas, including one in Lacey Township, N. J. Fire officials said on Dec. 28 that the fire was started by a hoverboard which was charging. Damage was sustained to the device as well as to the house. No one was injured.
The fire department responded to the house on a report of an unidentified explosion.
The federal government now has 16 different hoverboard fires under investigation in 12 different states. People who purchased these trendy toys for the holidays are advised to keep an eye on warranties and recalls. The U.S. Product Safety Commission is currently considering this a priority investigation, because so many people may have purchased hoverboards for the holidays.
Amazon stopped selling the devices because of the concern about fire, and some airlines have banned them.
Early investigations in the United Kingdom reported that the fires were started due to cheap batteries, which can overheat and explode during charging.
(Via 6ABC.)