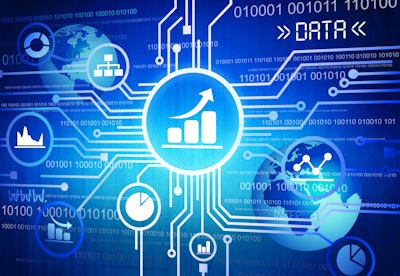 Every year, engineers are integrating IT more and more tightly into the design of products. Instead of selling a kitchen appliance, for example, consumer durable manufacturers are selling appliances-as-a-service that are engineered with built-in IT to connect with a smart platform for predicting, preventing and scheduling maintenance. The engineering services outsourcing (ESO) industry is growing and ESO providers are taking the lead in the integration of engineering and IT. Today, we are in the second wave of the evolution of this industry.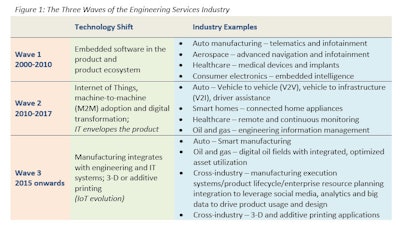 WAVE 1: ENGINEERING SERVICES OF YESTERDAY
To date, many enterprises have considered ESO an extension of their engineering organization. As a less mature industry than IT outsourcing (ITO) or business process outsourcing (BPO), the ESO market has remained relatively small with a core group of service providers. ESO engagements have generally tactical contracts delivered though time-and-materials (T&M) arrangements, renewed on yearly basis.
According to data collected in 2014, India-based providers have accounted for nearly a quarter of the overall engineering services market, which is worth approximately US $80 billion a year. The Indian ESO industry has been made up of Global Engineering Centers (GECs) and engineering service providers (ESPs). Half of the top 500 research and development (R&D) spenders operate in India through these GECs.
WAVE 2: THE INTERNET OF EVERYTHING DISRUPTS ENGINEERING SERVICES DELIVERY
Recent advances in sensor technology, wireless communications, distributed computing and big-data capabilities are enabling the Internet of Things (IoT) to rapidly transform the technology landscape. IT and embedded electronics are permeating the product and service engineering process, and consumers' expectations and requirements are increasing rapidly.
Firms in all industries must now deal with a profusion of data and devices. This new challenge is creating unique opportunities for ESO providers to create intelligent engineering applications to customize and monitor the entire product experience, including ideas like the connected car, real-time and continuous healthcare and remote monitoring of smart homes.
Engineering and designers are creating products that capture their own usage data and establish a continuous feedback loop. This way they can make their products more intelligent, and OEMs can increasingly deliver their products as-a-service and use software applications to define the customer experience and product evolution.
WAVE 3: THE INTEGRATION OF IT, ENGINEERING AND MANUFACTURING WILL BE THE NEXT BIG THING
The third wave of the ESO industry will be characterized by the integration of manufacturing as a third field of expertise. As the industrial internet becomes more secure, industrial automation, robotics and 3D printing are enabling a new dynamic which will create a more pronounced change than that of the prior two waves of evolution.
The third wave, which is beginning to happen now, will be in two phases:
The evolution of the "digital shop floor" will integrate previously siloed information across an enterprise with systems like Enterprise Resource Planning (ERP), Product Lifecycle Management (PLM), and Manufacturing Execution Systems (MES) resulting in increased productivity, optimized operational costs, enhance asset uptime utility and improved safety.

The design-to-print concepts of additive and 3D manufacturing will impact product maintenance and repair requirements. Imagine a washing machine or a predictive maintenance system that provides 24/7 monitoring of the production of expensive infrastructure equipment that can trigger the printing of a spare part at a local provider in a fraction of the time and cost.
THE CHANGING FACE OF ENGINEERING SERVICES
To realize the full potential of these growth opportunities over the next five years, the ESO delivery model must change. Current GECs that are entirely focused on engineering products must address the challenges of IT-enabled engineering by broadening their scope and enhancing their investments in new processes and technology. GECs must also leverage the higher level of experience, exposure and investments of ESO providers in a collaborative model.
In the future, managed services contracts for ESO providers will need to move away from the traditional engagement models to demand more value and tighter service integration that includes pricing aligned with client business metrics, stringent service-level agreements and key performance indicators. This way the business model will shift toward greater sharing of risk and reward between the client and the service provider.
Sampath Kumar is a Partner and Global Leader at Information Services Group (ISG)