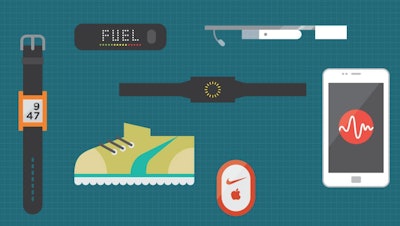 IDC's analysts expect worldwide wearable device shipments to reach 126.1 million units by 2019. A not-so-surpising number in my opinion, just take a look around you. It's rare that you'll see friends, coworkers or passerby's not wearing a fitness something-or-other. And more often than not, that wearable is adorned on the wrist.
Smartwatches and smartbands generally dominate the fast-growing wearables market. From tracking fitness, steps, caloric intake, and the like, consumers are increasingly "all about the wrist."
Why are wirst-worn wearables so popular amongst consumers? Well for one, they're easily accessible. There are many strong competing brands who are designing wearables for the wrist, from FitBit to Apple. The wearables are relatively affordable, and they're easy to "do." Much like a simple bracelet, you pop it on your wrist and head out the door.
In addition, they've really come a long way in the style department. For instance, FitBit has collaborated with popular fashion designers (like Tory Burch) to design wristwear that's rather chic. Apple, too, has branched out and designed a vast number of hip bands to make your smartwatch more personal.
According to IDC, the market's growth will be fuelled almost exclusively by smartwatches and wrist-worn fitness trackers, which are expected to account for 9 in 10 wearables shipped this year. As you can see in the chart below, wristwear is expected to continue to surpass other wearable options, such as clothing and eyewear, for the next couple of years.
You will find more statistics at
Statista