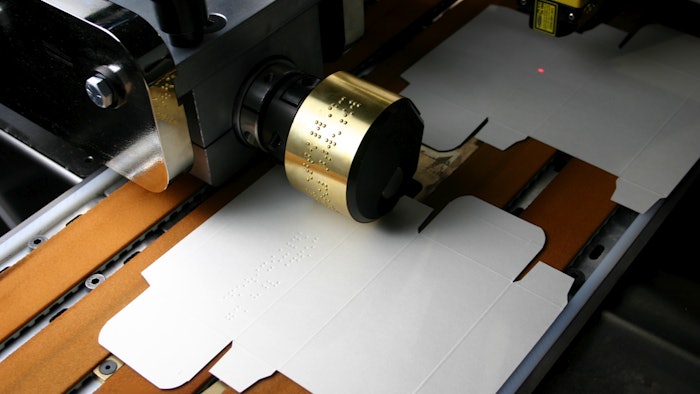 WSI Global, a leading manufacturer of finishing equipment for the carton converting, liquid packaging, and corrugated industries, announces it offers Braille capabilities, using either the TaskMaster™ infeed system or with a standalone unit that can be integrated into nearly any folder gluer. WSI's Braille offerings are ideal for meeting European pharmaceutical industry packaging regulations requiring Braille embossing to identify package contents.

Using the TaskMaster infeed system with Braille module, cartons are fed, aligned, embossed, and transferred to the folder gluer all in one operation – at up to 1000 feet per minute. This space saving unit can either run offline or be put directly in front of an existing folder gluer, keeping labor and set up times at a minimum.

The Braille plate-making kit is a completely integrated, freestanding plate-making station with a roll around design that makes it totally portable. New plates take only about 3 minutes to make. Plate cost is extremely low compared to competitive systems. The lockable cabinet design keeps pre-approved set-ups under complete control and neatly stores all plate-making components. Plates are easy to change. One screw releases the plate and a new one can be installed instantly. Plates are re-usable and made from simple, easy to obtain materials.

The Braille module is built to CE standards and is made of heavy duty tubular steel welded "T" frame with high structural rigidity. A vacuum-assisted timed multi-belt feeder ensures there will be accurate feeding of all types of stock. The self-contained vacuum system and manifolds are integrated into the frames. The unit includes separate AC servo motor drives for feed, aligning section, and Braille embossing head. Upper and lower top and bottom edge carriers carry blanks through the embossing unit with highly adjustable pinch and rigidity. The fixed lower Braille die features 4 lines, with 20 characters per line.