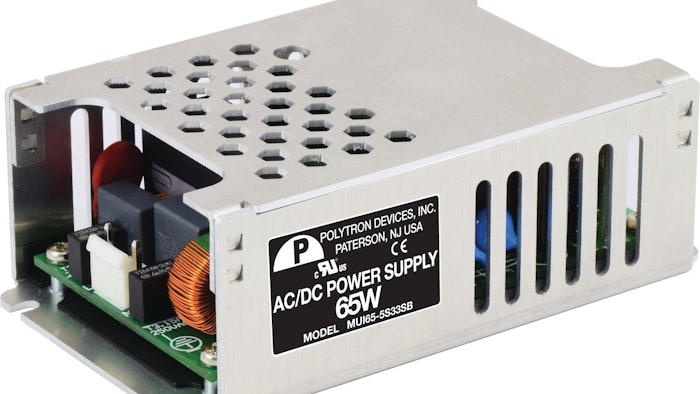 Paterson, NJ – February 8, 2017 – Polytron Devices has launched two new series of universal input AC-DC power supplies for use in medical applications. The MUI65 dual and triple output and MUI40 single output devices boast 0.15-watt low standby power consumption, 85 to 264 Vac, 47 to 63 Hz voltage range and low leakage current under 75 microamps.

The MUI65, for use in applications up to 65 watts, offers ultra low cross regulation under 1.5 percent and is delivered in a 2" x 3.5" package. The MUI40, available in a 2" x 3" package, is intended for applications up to 40 watts.
Additionally, both devices integrate a built-in class B EMI filter, 2MOPP insulation and 5000M operating altitude. They are RoHS-compliant and meet medical electrical safety standards including ANSI/AAMI ES60601-1, EN6060-1 and IEC60601-1 3rd edition.
The MUI40 single output series is available now for US$42.50 in quantities of 1,000 units. The MUI65 dual and triple output series is available for US$79.00 in quantities of 1,000 units. Small quantity orders are available immediately, while larger orders have a lead time of 4 to 6 weeks.

Media contact: Glen Turvey, 973-206-3090 x 201

About Polytron Devices
Polytron Devices Inc. has been a leading designer and supplier of standard and customizable DC-DC converters, switching power supplies and linear power modules for 45 years. All of our linear power supplies and many of our other products are designed, manufactured and tested in our 10,000 square foot manufacturing facility in Paterson, NJ. USA.