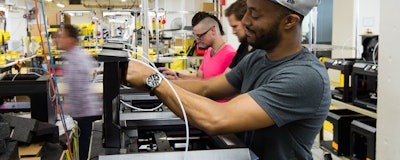 The gig economy revolves around utilizing a temporary workforce for short-term engagements, and it's creating a lot of buzz among employers and employees alike. While B2C companies like Uber and Airbnb have leveraged the benefits of a flexible, on-demand workforce for a few years, they are just scratching the surface when it comes to capitalizing on the capabilities and benefits of an independent workforce.
The gig economy concept can be applied and scaled to meet the needs of most businesses today, even those in the B2B space. There is a considerable advantage to manufacturers who are often in need of workers who can fulfill tasks immediately.
Recent statistics show that 53 million Americans were working as freelancers as of 2015, and studies predict that 40 percent of Americans will be independent contractors by 2020. According to reports, these freelance workers and independent contractors are earning 17 percent more per hour than conventional full-time employees.
The rise of the gig economy is most often attributed to the high cost of providing healthcare and other benefits to full-time employees, constant fluctuation in the demands for products, increasing overhead costs, and automation and internet accessibility. Manufacturers are no stranger to these issues, making them a clear candidate for leveraging gig economy principles to effectively and efficiently fill workforce gaps.
The incorporation of gig workers in manufacturing heavily relies on two key factors: millennials and mobile.
Millennials in the Workforce
The gig economy allows manufacturers to create and manage a multi-generational workforce that is comprised of employees of a variety of ages and experience levels. While the "Baby Boomer" generation has dominated the workforce strategy for many years, millennials have started a movement that has shifted how the workforce operates.
In 2015, millennials became the largest demographic age group in the workforce, and more than one-third of millennials were employed as independent workers. This is a drastic change from generations past, and thus requires companies to be more strategic in how they manage their millennial workforce.
Work-life balance is a high priority. Promotions and raises are of equal importance to the development of nurturing hobbies. And, millennials are often driven by purpose and motivated to work for a company that also prioritizes the greater good. Knowing these things, companies should think strategically about how they integrate millennials into their business equation.
In addition to leveraging gig economy principles to create an already-trained, already-screened and rapidly scalable on-demand workforce that appeals to millennials, manufacturers should also clearly define their mission and create opportunities for employees to engage beyond the business. A collaborative environment — one that bridges the gap between generations — will also allow a workforce to learn to work together toward a common goal. Management may have little time to devote to bridging this gap for employees, meaning it is important to set them up to do it themselves by encouraging a collaborative work environment.
Mobile Engagement
The relationship between business and technology is evolving faster than ever before, and this creates a lot of opportunities for manufacturing businesses. The gig economy may seem daunting to manufacturers who don't have the bandwidth to effectively hire, manage and assess on-demand workers without piles of paperwork or dedicated time at their computer. However, newer developments in technology have created an opportunity to integrate talent management and mobile technology to provide a more streamlined and automated process.
Mobile devices are utilized for practically everything, from social networking to job searching. This makes it essential for manufacturers to turn to mobile to manage processes important to the daily operation of their plants. From talent acquisition to workforce assessment to employee engagement, mobile technology enables plant managers to reach a wider talent pool of gig workers and keep them engaged. In addition to things like mobile-friendly websites, mobile advertisements, and even custom mobile applications, manufacturers should be looking for ways to integrate mobile technology into their daily workflow.
Manufacturing employers can achieve a heightened level of connectedness and engagement with their on-demand employees and job candidates with a fresh flow of data sent via a multi-channel approach that includes texting, email campaigns and social media. Mobile communication boosts employee recruitment and retention, streamlines job-specific updates, provides the opportunity for real-time data updates for efficient project planning, increases productivity and reduces staffing challenges.
Marrying the needs of millennials with mobile technology can set any manufacturing business up to reap the many benefits of the gig economy, including gaining efficient, flexible and on-demand employees that can fulfill workforce gaps.
Pete Butler is the founder and CEO of MS Companies.