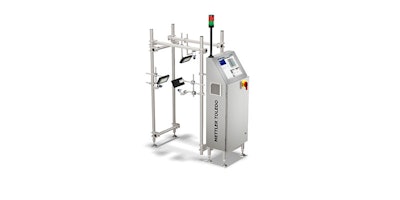 The V2630 Flex Vision Inspection System from Mettler Toledo CI-Vision is an easy-to-install, easy-to-move, and easy-to-use vision inspection system for label, print and package inspection applications on flat, oriented products. Unlike traditional machine vision systems, the V2630 offers users the ability to configure the system to meet their specific product inspection needs. This adaptability also supports expanding production lines without the need to add new inspection equipment.
The V2630 is designed to be expandable, allowing manufacturers to add cameras to the system as their inspection needs change. The system can support up to five cameras and ten lights, as needed, making it flexible enough to meet a wide variety of product inspections. This design features METTLER TOLEDO CI-Vision Rapid Fit™ frame system. The Rapid Fit modular design creates an efficient frame and mounting brackets for the cameras and lights that makes them easier to adjust. The V2630 is designed for sustainability in mind, with smaller, lighter frame components and easy assembly. This makes it easy to move the system between production lines within the manufacturing facility.
The V2630 is accessed from a separate control terminal. It can perform multiple inspections of a target package simultaneously, for ID/OD, ovality, gross formation defects, label positioning, label quality, closure application, fill level, 1D and 2D bar codes, graphical presence and quality, and the presence and verification of alphanumeric codes. It adapts to increases in production line speeds, ensuring that no product leaves the facility without being inspected.
The V2630 system runs on CIVCore 11, the latest version of METTLER TOLEDO CI-Vision's proprietary CIVCore software. The software's architecture enables quick training of new parts and the addition of new inspections without sacrificing production time. All trained parts are stored for easy retrieval, and images of rejected items are stored for later review. A powerful statistics suite allows manufacturers to track failure rates and identify process weaknesses. CIVCore 11 ensures that the V2630 integrates smoothly into manufacturers' existing production line layouts and provides the connectivity and reports they rely on to monitor line productivity and improve their production processes.
METTLER TOLEDO  www.mt.com/pi