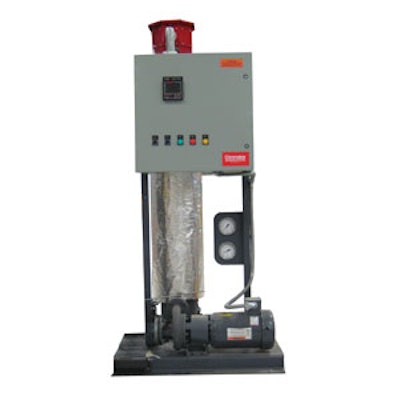 Chromalox introduces its MOS mid-size hot oil heat transfer systems to ensure responsive and precise electronic process temperature control in a space-saving package. These systems additionally grant:
Heat transfer capabilities up to 600° F, or an optional 650° F, at atmospheric pressure (non-pressurized).
Compatibility with a variety of heat transfer oils, such as Paratherm®, Mobiletherm®, Therminol®, Dow Brands® and many more.
Suitability for reactors, evaporators, dryers, platen pareses, heat exchangers, roll-heating or jacketed kettles, vessels and tanks.
A closed-loop system using an optional cold expansion tank, which can reduce the degradation of heat transfer fluids and remove the requirements for a nitrogen (N2) purge. 
A compact installation footprint with dimensions of 32 by 36 inches for 50- and 75-kW operation, or 34 by 36 inches for 100- to 150-kW operation.
No external cooling required as the system is equipped with an air-cooled mechanical seal.
150# carbon steel construction with a heavy-duty steel support base with channel grooves for forklift transport.
A fully welded heat chamber that houses long-lasting Chromalox heating elements.