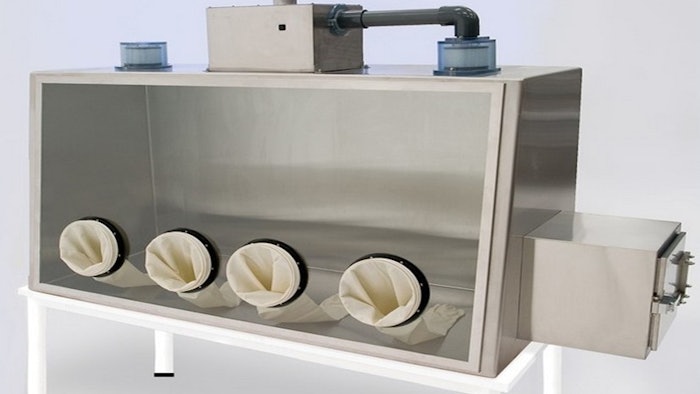 Fullerton, CA – Terra's hermetically sealed glovebox chamber creates an ideal enclosure for strict, aseptic processes. The glove box is made of your choice of 304 or 316 stainless steel, with over-sized transparent polycarbonate or tempered-glass viewing window. Weld seams are continuous to avoid small pockets where contaminating particles may gather.
Interior edges and corners are coved to create smooth, rounded surfaces that clean-up easily and quickly. A fluorescent lamp module is included with the glovebox; options include an ultra-violet sterilizing lamp. Glove boxes are available as single (two 10" glove ports) or double (four 10" glove ports) working units.
An open-loop ULPA filtration system is available to remove powders and aerosols created during applications. Other options include right-side or left-side air-locks, removable access panel for equipment placement, nitrogen purge controller, automated relative-humidity (RM) control system, and a sloped bottom with drain valve to safely contain chemicals and waste.
Terra Universal has 40 years of experience manufacturing critical-environment gloveboxes used for isolation or containment. Visit Terra Universal's website for more information about their Biosafe Aseptic Processing Isolator.