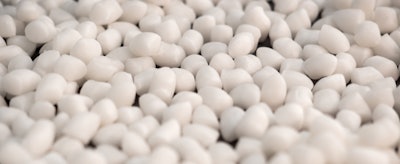 Green Dot Bioplastics is up against some formidable foes. In the world of bioplastics, major players such as BASF, DuPont and NatureWorks, among others, continue to dominate the market. And then there's conventional plastic — which remains cheap and abundant.
But Kansas-based Green Dot has carved out a niche for itself with biodegradable and bio-based plastics the company said can be suited to meet a variety of industry and consumer needs.
"We talk to customers to figure out what they need as far as the physical requirements for their products, then we develop customized formulations," says Kevin Ireland, the company's communication manager.
And the market is also growing. A report earlier this year forecasted that the global market for bioplastics will increase 29 percent between 2016 and 2020, driven by increasing consumer demand for eco-friendly materials and the emergence of bio-based raw materials.
Here's a quick look at how Green Dot is making a name for itself in the world of bio-materials.
Their start: Green Dot opened its doors in 2011 and is led by Mark Remmert, who's been an executive in the plastics industry for more than 30 years — much of that time was spent working at Dow Chemical.
Current employees: 6
Sales: According to Ireland sales in 2015 doubled over the previous year. In 2016, the company expects to pull in $3 million.
Products: Green Dot started with a soft plastic material that is compostable and free from potentially toxic chemicals such as phthalates — currently one of the most controversial chemicals in plastics.
After 2013, Green Dot acquired plastics material technology from MPG Ingredients and has since grown its portfolio to include a wide range of bio products.
The company replaces petroleum-based feedstock with natural fibers, wood fibers from milling operations and agricultural waste. The company's biodegradable materials help reduce landfill waste, where traditional plastics can sit for hundreds of years.
The company originally targeted the pet supplies and toys markets — where there are mounting consumer concerns about toxic chemicals. Now the company has moved into durable goods and is hoping to expand into the world of packaging.
"We think there's a huge potential in packaging, especially as consumers become much more aware of the environmental impact of the products they use every day," Ireland says.
Biggest moments: In 2012, Green Dot was named by Bloomberg as one of "America's Most Promising Social Entrepreneurs."
In 2015, the company partnered with the popular 90s rock band Pearl Jam and Sea-Lect Plastics to manufacture a biodegradable luggage tag in Seattle.
Last year, it participated in a show at NPE, the country's biggest plastics show, and showcased a biodegradable synthetic leather in a fashion show.
Biggest challenges: The market for bioplastics is expanding rapidly, which is great news for companies like Green Dot. But it also puts pressure on the company to run its small operations at maximum efficiency.
"We're a technology and manufacturing company, and that requires a lot of capital," Ireland says. "We need to continue to grow our manufacturing and R&D capabilities to meet the growing demand for more sustainable plastics."