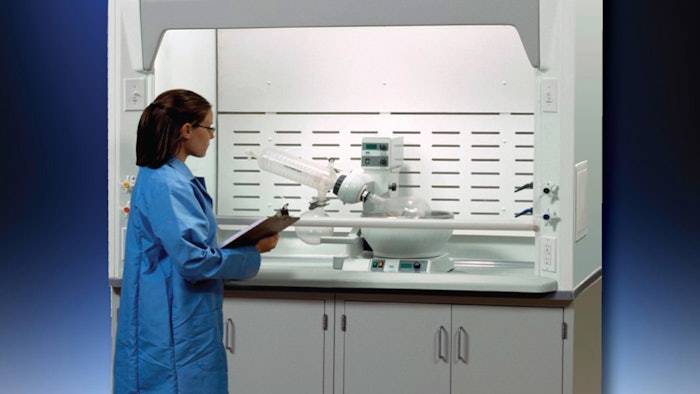 Fume Hoods are a basic piece of lab equipment, used to prevent a user from being exposed to hazardous chemicals or fumes. Chemical reactions are performed inside the fume chamber, behind a sash, to provide a safe working environment for the user. Fumes created in the fume hood are exhausted to the outside.
UniFlow AireStream Fume Hoods are constructed entirely of chemical resistant, flame retardant, non-metallic composite resin materials and features an exclusive "Unitized" construction that does not require screws, bolts, rivets, or metallic hardware to assemble. The fume chamber is molded one piece seamless with all corners coved for easy cleaning and light reflectivity. This series of fume hoods is UL 1805 certified and is offered in 48", 60", 72" and 96" widths in either constant air volume or restricted bypass models.
The AireStream Fume Hood is a high performance fume hood that maximizes user protection and energy savings. This hood is equipped with a 36" high extended view height, exclusive slotted rear VaraFlow baffle system, aerodynamic sash lift with perforated air-sweep feature, and molded-in belled outlet collar for reduced airflow resistance. Hood is shipped completely assembled and can include a wide selection of accessories that can be factory installed to meet your specific need. Work surfaces in a variety of materials and a choice of base cabinets including acid or flammable storage are optional as required.
Visit www.hemcocorp.com/sefh.html, email info@hemcocorp.com call 816-796-2900.