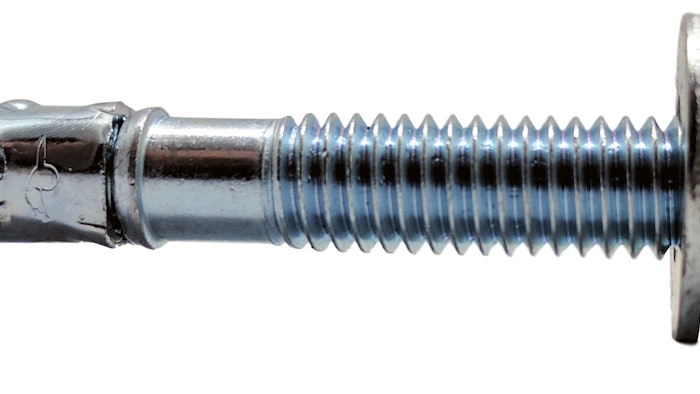 Concrete Fasteners, Inc. introduces the addition of a revolutionary new product, the Red Head Trubolt+ wedge anchor, to its inventory.
The versatile American-made Red Head Trubolt+ wedge anchor has been approved for CRACKED/UNCRACKED concrete and SEISMIC applications.
• Evaluated for ICC-ESR Report No. 3772
• Made in the USA
• Features advantageous design flexibility with minimum edge distance and anchor spacing requirements
• First 1/4" wedge anchor approved for seismic, cracked and un-cracked concrete
• Outstanding performance in steel strength tension
• Exceptional performance in steel strength in shear, uncracked or cracked concrete
• 1/4" and 3/8" are fully stocked for immediate delivery

When a job requires anchors that are approved for cracked concrete, seismic or traditional wedge anchors, Concrete Fasteners, Inc. is the "one order, one delivery" purchase choice. It has a fully stocked inventory from which to fill orders of all quantities without the need for backorders.

Concrete Fastening Systems, Inc., has been selling the CONFAST line of high-quality concrete fasteners for more than 29 years—from its' brick and mortar location in Cleveland, Ohio. Because we specialize in concrete fasteners, we ensure your purchase will be the best concrete fasteners system for your project.

By pass the distributor by going online and ordering direct from CONFAST concrete fasteners. Our online ordering is easy, secure, and at the lowest available price. From a single location in Cleveland, Ohio, online orders are shipped free of charge to all 50 states—on the same day the order is placed. All of our concrete fasteners are always in stock.