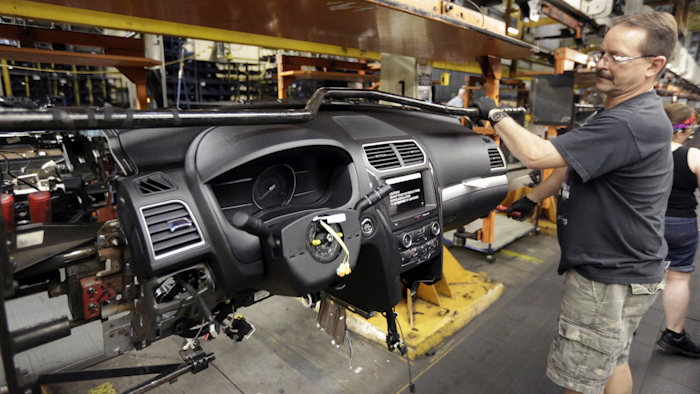 WASHINGTON (AP) — Orders for long-lasting U.S. manufactured goods dropped in August with weakness in a key category that tracks business investment plans.
Orders for durable goods fell 2 percent last month in contrast to July when orders had risen by 1.9 percent, the Commerce Department reported Thursday. A key category that serves as a proxy for business investment edged down 0.2 percent last month after gains of 2.1 percent in July and 1.5 percent in June.
The underlying demand for manufactured goods has been weaker this year as a strong dollar and China's economic slowdown have dragged down demand for American exports and big declines in oil prices have resulted in cutbacks in investment by energy companies.
For August, demand for commercial aircraft fell for a second month, dropping 5.9 percent after an 8.7 percent decline in July. In June, this volatile category had shown a 69.9 percent increase.
Orders for motor vehicles and parts fell 1.6 percent after gains in the two previous months.
Orders outside of the transportation categories were flat in August after a modest 0.4 percent rise in July,
Demand for machinery was up 1 percent but orders for computers fell 5.7 percent.
The Institute for Supply Management said that its manufacturing index slid to a reading of 51.1 in August, its lowest level since May 2013. It was the second straight drop for the manufacturing index. Anything above 50 signals growth.
The rising dollar makes U.S. goods more expensive in foreign markets while weakness in China, the world's second biggest economy, also serves as a drag on the global economy.
The overall economy, as measured by the gross domestic product, grew at an annual rate of 3.7 percent in the April-June quarter, an estimate that will be revised on Friday. Private economists believe the GDP estimate for the second quarter will be unchanged at 3.7 percent, which represented a sharp increase after an anemic 0.6 percent increase in the first quarter.
Economists are forecasting that growth in the current July-September quarter will slow slightly to around 2.5 percent, reflecting in part an effort by businesses to trim their stockpiles after a big rise in inventories in the spring.