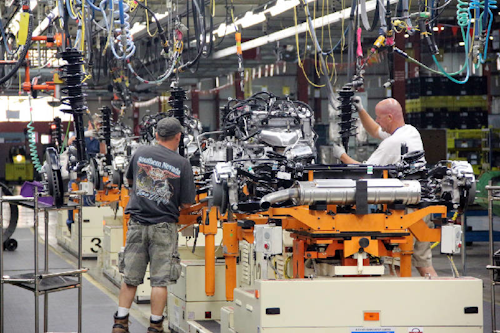 The latest monthly poll of U.S. supply executives suggests that the nation's manufacturing economy expanded again in October.

The Institute for Supply Management reported that last month's Purchasing Managers' Index was 51.9 percent, a 0.4 percentage point increase from September's total.

The index also eclipsed the 50 percent threshold — which reflects manufacturing expansion -- for the second consecutive month.

The survey's production index increased by 1.8 percentage points to 54.6 percent, while the employment index climbed by 3.2 percentage points to eclipse the 50 percent level at 52.9 percent.

The prices index of 54.5 percent rose by 1.5 percentage points — the eighth consecutive monthly increase for raw material prices — while raw material inventories slid by 2 percentage points to 47.5 percent.

The index of new orders, meanwhile, fell by 3 percentage points to 52.1 percent while the order backlogs index fell for the fourth consecutive month, by 4 percentage points, to 45.5 percent.

The indexes for both exports and imports also increased last month, the survey found.

"It's a good start to the fourth quarter," ISM Manufacturing Business Survey Committee Chairman Bradley Holcomb told the Associated Press.

The PMI reflected growth in the broader economy for the 89th consecutive month.

The committee also asked supply executives about what impact, if any, they experienced from the bankruptcy declaration by Korean shipping giant Hanjin.

A majority saw no impact at all, while another 30 percent identified a "small, not material impact" and 13 percent found a "manageable" effect.

Less than 1 percent said they experienced a "large material impact" from the bankruptcy and subsequent stranding of billions in cargo on Hanjin vessels.