MAHWAH, NJ — Lincoln Educational Services Corporation (NASDAQ: LINC) announced that Lincoln Tech in Mahwah, NJ has received a third grant from the Gene Haas Foundation to promote career training for computerized manufacturing at its campus. In early October representatives of the Haas Foundation presented the school with a check for $50,000 — bringing its three-year total to $130,000 — as part of its mission to promote hands-on training for 21st century manufacturing careers.
Lincoln Tech's CNC (Computer Numerical Control) Machining and Manufacturing Technology program helps aspiring manufacturing professionals build experience working with the computer-driven equipment at the heart of today's industry. Haas Automation, Inc. is a leading national provider of CNC equipment and was instrumental in helping the program launch in 2013.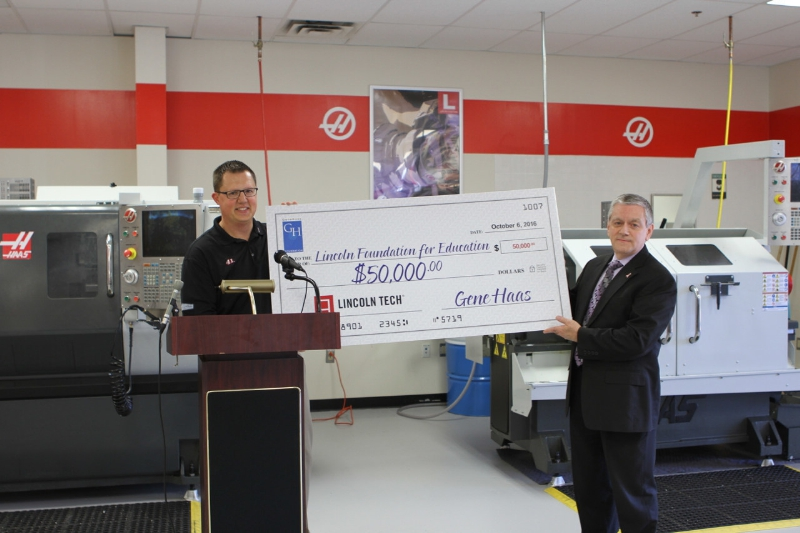 "We're grateful to Haas for the continued support they've shown for our CNC manufacturing program – including their sponsorship of the Haas Technology Center on our campus," says Joe Bellucci, Director of Education at Lincoln Tech in Mahwah.  "We're proud to call them our partners as we develop the next generation of CNC manufacturing professionals."
The check was presented during Lincoln Tech's observance of National Manufacturing Day, a day marked each October to promote education and awareness around the modern manufacturing industry.  More than a dozen hiring managers from area manufacturing companies were on hand to tour the campus and meet current students nearing graduation from the school's CNC program.
Presenting the check was Neil McGill, Director of Operations for Allendale Machining, the local Haas Factory Outlet.  He citedLincoln Tech's CNC program as critical to building the region's manufacturing workforce.  With almost 3,000 positions projected to open in the field by 2024 across New York and New Jersey, training programs like the one offered at Lincoln Tech provide employers with a steady flow of qualified, skilled operators for their CNC equipment.
"What a farmer doesn't grow, a machinist makes," says Luis Vendrell, Corporate Director of Product Development at Lincoln Tech.  "The CNC Manufacturing industry requires both skilled line-workers to operate CNC machines, and automation programmers that direct the manufacturing process.  Training at Lincoln Tech can prepare you for these careers."
CNC machines are used in factories producing components for the healthcare, automotive and aviation industries, the military, electronics companies, and a wide range of other industries.  The equipment creates parts from materials including steel, aluminum, wood and more.
Lincoln Tech's Mahwah campus is accredited by the Accrediting Commission of Career Schools and Colleges (ACCSC), an agency recognized nationally by the United States Department of Education.