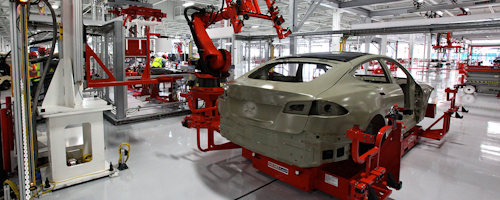 Tesla Motors could double the size of its Bay Area auto plant under a plan submitted to local zoning officials.

The filing shows how the electric vehicle manufacturing company could more than double the size of the Fremont, Calif., factory and bolster its vehicle production ten-fold, the San Francisco Chronicle reports.

The Fremont factory produced about 50,000 Tesla vehicles last year, but the company expects that it will need to sharply increase that number after the 2017 introduction of its more economical Model 3 sedan. Tesla CEO Elon Musk set a goal of producing 500,000 cars by 2018 and 1 million by 2020.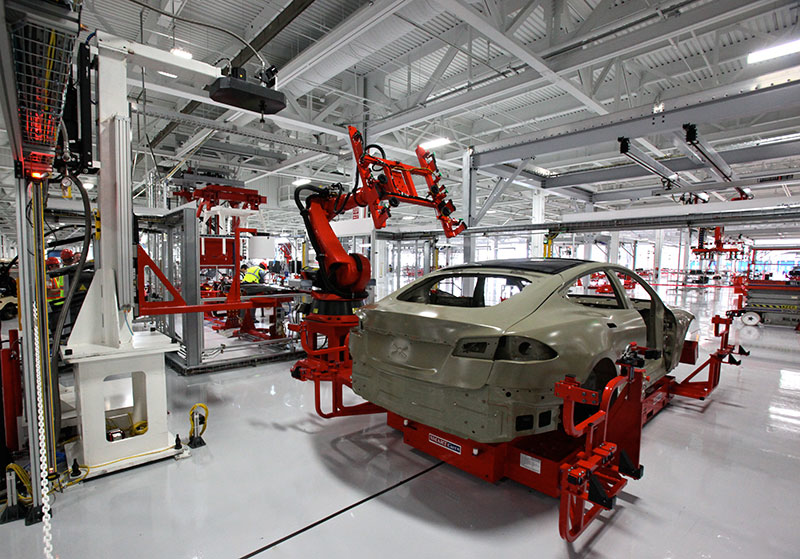 The Fremont proposal would need to be approved by both city zoning officials and the city council; Tesla would then need to receive separate approval for its specific building projects.
The filing did not offer specific details on the scope of the expansion, its potential costs or the company's deadlines, but Fremont officials suggested that the expansion could add 3,100 jobs at the plant
The factory, originally built by General Motors more than 50 years ago, currently houses 6,200 Tesla workers.
"We are pleased to work with the City of Fremont on a plan that reaffirms our commitment to California and to eventually maximize the potential of our Fremont factory site," Tesla told the Chronicle in a statement.
In addition to expanding its current factory operations, Tesla said new plants — including in China and Europe — would be needed to meet vehicle production goals. The company's new Nevada "Gigafactory" will help supply the cars with lithium-ion batteries.
The automaker, however, continues to face hiccups in its ambitions to become, in Musk's words, "the best manufacturer on Earth." Tesla, which has yet to turn a profit, has drawn recent concerns over its "Autopilot" semi-autonomous system and its proposed merger with solar panel installer SolarCity.