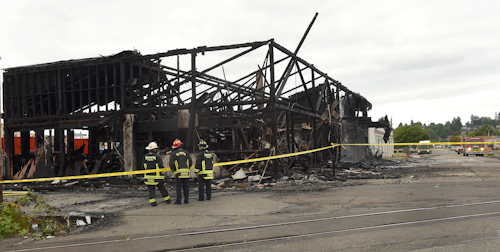 OLYMPIA, Wash. (AP) — A massive fire that burned through a city block in downtown Olympia destroyed a 100-year-old warehouse.
KOMO reports that fire officials say it's too early to determine a cause of the blaze early Tuesday morning.
Crews responded to the fire at about 1:15 a.m. after receiving calls about fire and smoke spewing from the building.
They fought the fire for an hour and a half before bringing it under control. Crews also fought to keep the heat from reaching a fuel shop and several propane tanks nearby.
Officials say the destroyed warehouse was built before 1920 as part of a lumber mill and housed a number of different tenants over the years. Most recently, it was a storage warehouse for a local fuel company with the tea wholesaler and wood shop renting space.