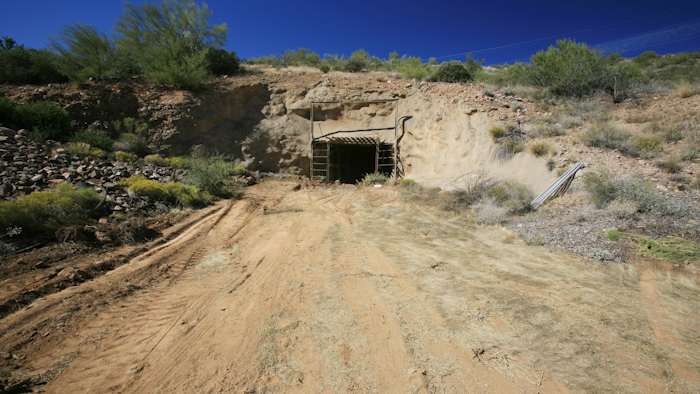 Federal officials announced Friday they will prepare an environmental impact statement on a proposed new underground copper mine and a related land swap in Arizona, a project that has stirred debate over environmental and cultural concerns.
The Tonto National Forest also said it plans four public hearings on the Resolution Copper project near the mining town of Superior, Arizona.
The site roughly 60 miles east of Phoenix would include environmentally sensitive federal land that would be obtained in exchange for land owned by Resolution.
Conservationists, residents and Native American tribes contend the mine would harm land coveted for its beauty, biodiversity and sanctity.
The company, business leaders and some members of Congress stress economic benefits from the project and contend they have addressed tribal concerns while protecting the environment and holy Native American locations.
Forest Service officials said the environmental impact statement will analyze effects of approval of the company's plan, including the land exchange, and develop and analyze alternatives.
Resolution Copper's proposal includes a transfer of 2,422 acres of public land in an area known as Oak Flat in exchange for 5,344 acres owned by Resolution in eight parcels elsewhere in Arizona.
A provision in a 2014 federal law advances the exchange but requires that a full environmental review be completed before the trade is finalized. Several members of Arizona's congressional delegation championed the provision.
The company welcomed the agency's announcement and called it a significant milestone that will begin the project's "public engagement process."
The federal environmental review "is entirely consistent with the way in which we develop state-of-the-art projects worldwide and it is an important process that allows stakeholders to identify potential environmental and cultural concerns so that they can be analyzed and mitigated," said Andrew Taplin, the company's project director.
Resolution Copper, a subsidiary of British-Australian Rio Tinto and Australian BHP Billiton, says the mine will bring in the equivalent of roughly a $1 billion in revenue annually for about 60 years. The company plans to tap into the ore using block-cave mining, a technique that involves digging beneath the ore body and setting off explosions to break apart the ore.
Sierra Club spokeswoman Sandy Bahr said the 2014 federal legislation left the Forest Service with "no choice but to analyze this destructive land swap and mine on the Tonto National Forest."
"The environmental analysis will make it clear to all what a bad idea this swap is and how harmful it will be to the plants and animals of Oak Flat, the waters in the region, recreation, and to important cultural values of the area," Bahr said.
The Forest Service said it is soliciting public comments during an initial 60-day period and that hearings are scheduled March 31 in Queen Valley, April 4 in Superior, April 5 in Globe and April 6 in Gilbert.