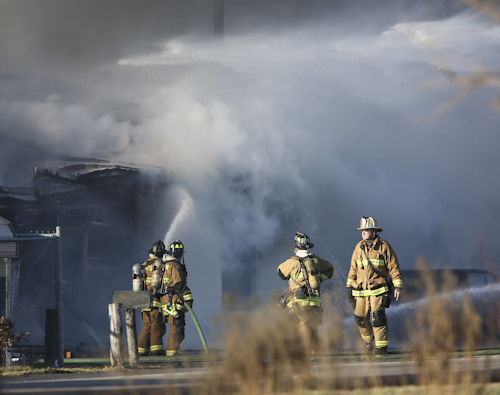 LEXINGTON, Ky. — A large fire broke out Saturday at the Blue Grass Stockyards complex in Lexington and spread to other businesses, sending a huge plume of smoke into the sky, authorities said.
Lexington Fire Department spokesman Joe Best said Saturday the blaze was one of the largest he has seen in his 25 years with the department. He told The Associated Press a call came in to the department about 2:20 p.m. He said he was not immediately aware of any injuries.
Around that time, AP reporter Adam Beam saw thick black smoke coming from the area and heard explosions. Soon the sky was turning black.
Best said the fire broke out in a light industrial area near a box factory and other warehouses. He said he heard reports of explosions but did not immediately know what had caused them
Steven Parrott was walking down a nearby road Saturday afternoon with his shirt pulled over his nose to shield him from the smoke.
"Flames were everywhere," he said. "It was big even before the firefighters got there."
Best said the department asked people to avoid the area and asking residents within a half-mile radius to stay indoors with their doors and windows closed.