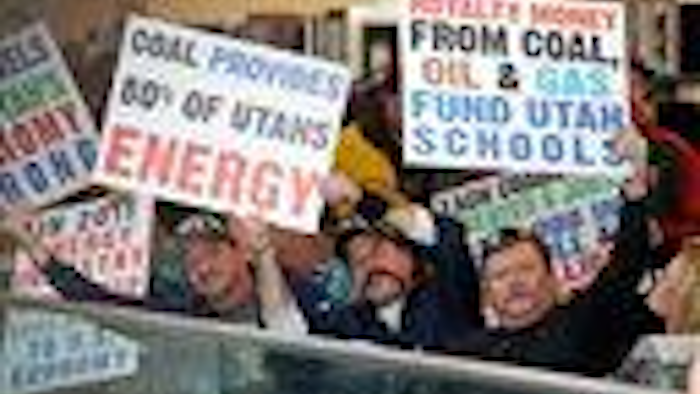 SALT LAKE CITY (AP) — Hundreds of residents from central Utah communities that rely heavily on coal packed a public hearing Tuesday to show their opposition to a proposal requiring new pollution controls at the state's oldest coal-fired power plants.
A parade of speakers urged Environmental Protection Agency representatives to choose a different option under consideration: A Utah state plan that relies on existing measures already in place.
They back state air quality officials and Rocky Mountain Power representatives who contend a series of measures added to the plants in recent years are working to cut down haze that environmental groups contend contributes to murky air at nearby national parks.
The National Park Service and a host of environmental groups want the EPA to require new equipment to cut down on nitrogen oxide emissions at Rocky Mountain Power's Hunter and Huntington power plants in Emery County, Utah.
Only about half of the attendees — many who drove several hours from Carbon and Emery counties — fit in a small hearing room at the Salt Lake City public library. The rest were stuck outside the room, watching through glass windows but unable to hear what is being said for much of the hearing.
Coal plant supporters held signs that read, "For a strong economy support fossil fuels" and "Producing fossil fuels is a very beautiful thing." One child held a sign, "Fossil fuels improve the planet."
They spoke passionately about what they consider an assault on the coal industry — based largely on myths and inaccuracies — that has cost their county jobs and decimated the economy.
The hearing comes just weeks after the Obama administration's decided to halt new coal leases on federal lands, triggering rebuke from coal supporters who called it the latest attack in the war on coal.
"Coal is not the end all boogeyman that so many people portray it to be," said Phillip Jensen, of Carbon County. "The EPA really needs to look at the reality of pollutants and their sources and stop trying to destroy these industries. Stop trying to destroy whole communities, and stop trying to destroy the people's lives all for this holier-than-now crusade."
The National Park Service supports the option to add additional measures, citing research that shows the plants contribute to haze that negatively impacts visitor's experience to the southern Utah's red rock parks.
Kate Cannon, superintendent at Arches and Canyonlands National Parks, said the parks experience haze on eight in 10 days. The primary cause on about 20 percent of those days is the coal plants, Cannon said. The coal plants also contribute to the haze on the other days, she said.
"We have an air quality problem in our parks," Cannon said. "People come because they are reputed to have spectacular views. People now see those views behind a veil of haze way too often. We should do what we can to reduce that."
Before the hearing began, environmentalists held a news conference to speak about the importance of adding additional controls on the power plants. They say the proposed measures simply follow what has been installed at 250 other power plants around the country, and they would significantly cut down on haze that sometimes blankets Arches and Canyonlands national parks that are roughly 80 miles southeast of the coal plants.
They wore T-shirts that read, "I love clean air" and stood in front of a banner with pictures of Utah's red rock national parks with the words, "Utah's national parks deserve clean air."
Speakers from several different organizations said action is needed to preserve pristine views that make southern Utah a major tourist destination.
"It is so beautiful at our parks. It can be a spiritual experience," said Heila Ershadi, a city council member in Moab. "When it's smoggy, it's flat and lifeless, and it really robs us of something special."
Bill Lawson, a Rocky Mountain Power executive, said the proposal for additional controls would cost $700 million and wouldn't accomplish what many think. He said his company has spent about $500 million over the last decade to put new emission controls that are having impacts. That's why the company supports the alternative option to adopt the state plan.
"Some have implied option one is a do-nothing plan," Lawson said. "This is simply not true."